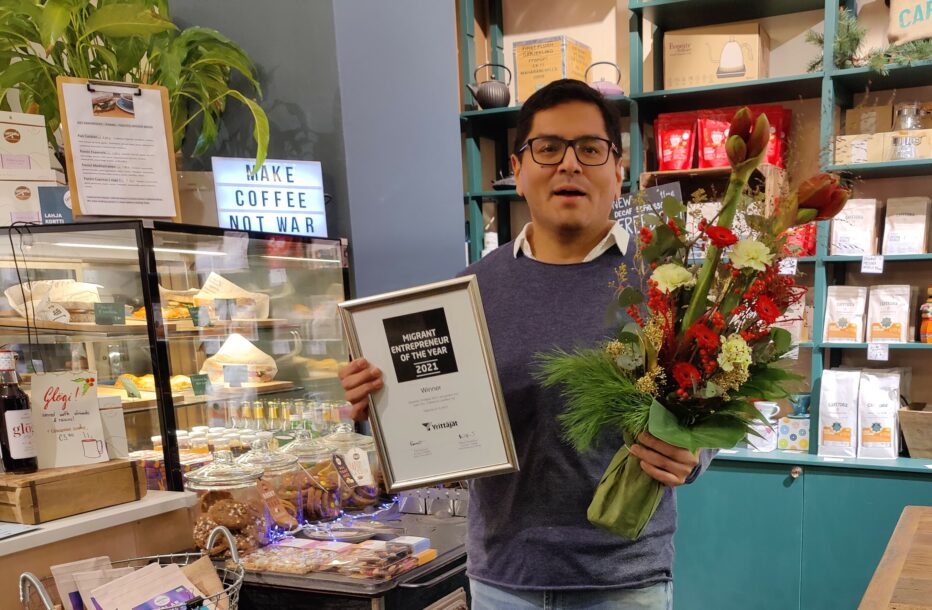 Ivan Ore is the Migrant Entrepreneur of the Year 2021
The winner of the Migrant Entrepreneur of the Year award is Ivan Ore, originally from Peru. Ore's company is Cafetoria Roastery Oy, based in Lohja. The other finalists were forestry entrepreneur Eduart Shehu and experience travel provider Theo Turner.
Ore has also launched his own Cafetoria Roastery coffee brand. In addition to the roastery in Lohja, the company has coffee shops in Helsinki and Espoo.
Ore moved from Peru to Finland over 20 years ago to study engineering, and after graduation he worked at Nokia for almost 12 years as a research engineer. When Ore visited his native country during that time, he got to know Peruvian organic coffee farmers. He wanted to import the coffee to Finland and at the same time help the coffee growers secure a more reliable income.
Ore started out as a part-time entrepreneur, registered as a sole trader while still in employment, and began importing and selling coffee, first raw and then in the form of organic coffee he had roasted himself. When Ore and his wife began running the business full-time in 2012, they registered the Cafetoria Roastery Oy company.
The jury was particularly impressed by Ore's dedication over the long term to expand his business and make his dreams a reality. The company has grown and operated profitably.
The jury felt that Ore's story, business strategy and profitable business deserve recognition with the Migrant Entrepreneur of the Year 2021 award.
In addition to serving great coffee, the company wants to help foreigners find employment in Finland. People from over 13 countries have worked at Cafetoria Roastery over the years.
The employment pension provider Elo funded the €5,000 prize. The members of the jury were Ali Giray, chair of the Suomen Yrittäjät immigrant entrepreneur network, the 2020 winner Ioan Canta, Marko Hara, a director at the employment pension company Elo, and Petri Salminen, chair of the board of Suomen Yrittäjät.
– With the competition, we got to see inspiring entrepreneurial stories, and Ivan Ore has shown great perseverance and courage in his actions. There are great examples of migrant entrepreneurs, which we want to highlight and at the same time encourage others to dare and try, says Marketing Director Joni Tikkanen from Elo.
The Migrant Entrepreneur of the Year contest aims to present migrant entrepreneurs and highlight how important they are to our everyday lives. Read more about the finalists here. And see the video here.
Ivan Ore, Cafetoria Roastery Oy:
Turnover (2021): 812,000
Employees: 7 employees
Roastery in Lohja and coffee shops in Espoo and Helsinki.
Founded in 2012.

For further information, please contact: Heiju Simola, +358 40 843 1991, heiju.simola@yrittajat.fi