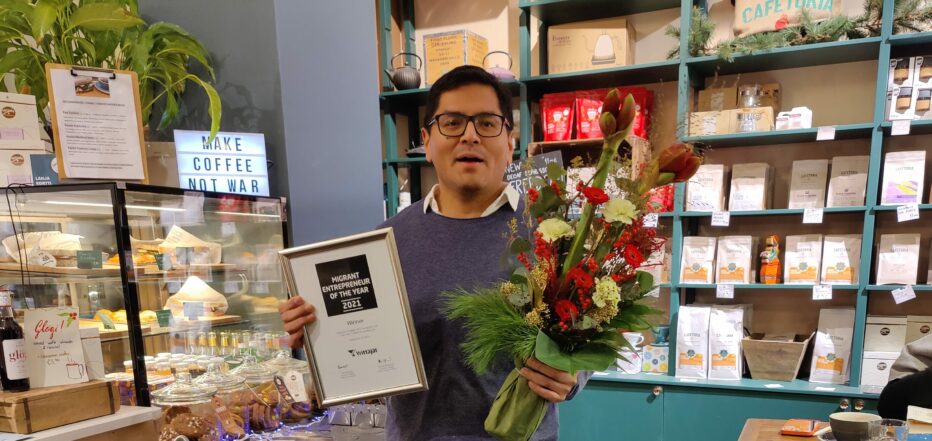 Ivan Ore – Cafetoria Roastery Oy
Ivan Ore enjoys the freedom of being an entrepreneur: "I like the possibility to do different things during the day, it makes the work interesting"
Ivan Ore, Migrant entrepreneur of the year 2021, moved to Finland with no plan of starting his own business – and definitely not thinking of owning a business in making coffee.
Originally Ore's reason for coming to Finland was pursuing a master's degree. At the time an electrical engineer, Ore followed Finland's good reputation in telecommunications. After two years of studies and graduating at Aalto University, he worked at Siemens and Nokia.
On a trip back to Peru something happened that changed Ivan's course. His parents had gotten a bag of self-grown coffee from a relative who had recently started a business with his neighbors.
– The coffee was very nice, organically grown. He asked me, "Why I don't take that coffee to Finland?" I didn't know anything about coffee or the processing chain, but I decided to travel to the village and get to know their plans, Ore says.
It turned out that the farmers were very committed to producing sustainable high-quality coffee.
– The quality was an important factor to take this initiative. I wouldn't be able to be successful if the coffee wasn't good, and I don't like dealing with bad quality products in general. The quality must be good whether we are baking something or roasting something. This is our brand and high quality is respect for ourselves and for our customers.
Ore imported 1000 kilograms of coffee beans and that's how his coffee adventure started. The business he and his wife founded in 2012 has grown to consist of a roastery and two cafés in Helsinki and Espoo.
Ore finds freedom and versatility to be the best parts of being an entrepreneur.
– I feel free even if I am working a lot, more than 12 hours a day. I like the possibility to do different things during the day, move, meet new people, and see new places. It makes the work interesting, Ore says.
Another aspect to why Ore enjoys having his own business is the endless possibility to keep learning.
– Entrepreneurship is a possibility to develop myself in different fields: not to be restricted to a certain topic, but trying to learn new things and create new products, innovation, marketing, sales, everything.
When asked what challenges him the most in being an entrepreneur in Finland, Ore mentions not speaking Finnish. The language is a barrier in both small and big things from advertising to finding new terrains of growth or creating partnerships.
Ore's business partner, his Finnish wife, is his biggest asset when it comes to the Finnish language. He encourages other migrant entrepreneurs to do business with a partner, maybe a Finn.
– When there are two or more people, I see things move faster and possibly better as well. It's good to collaborate and have multiple owners.
Besides finding partnerships, Ore's advice to aspiring entrepreneurs is simple.
– Different people have different talents and ambitions. You should evaluate what you really want and not be influenced by other people's definitions of what is success. Just follow what you want to do, and as long as you enjoy your work and have passion and dedication for it, you will find what is the best concept for you, Ore concludes.