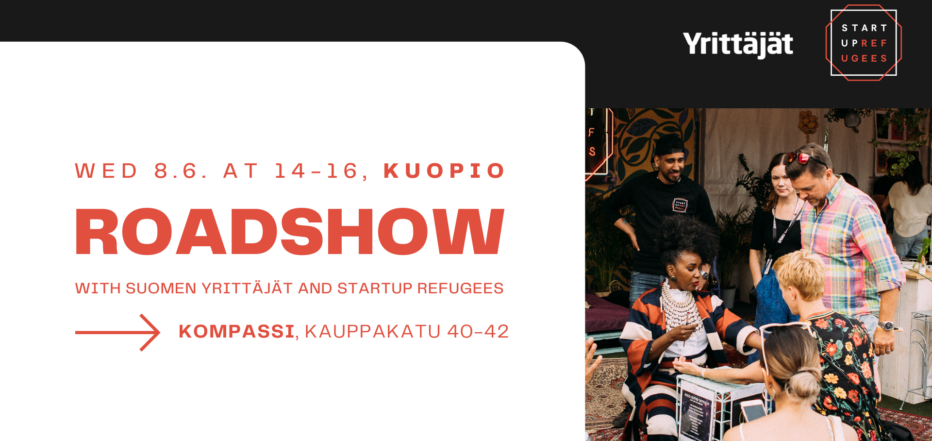 Suomen Yrittäjät x Startup Refugees Roadshow Kuopio
Savon Yrittäjät

Suomen Yrittäjät

Entrepreneurs in Kuusamo
Welcome to a networking event for entrepreneurship-minded people! If you need translation to English/Arabic/Russian, please sign up by 2.6.
Verkostoitumistapahtuma yrittäjille ja yrittäjyydestä kiinnostuneille / Networking event / нетворкинг-мероприятие / حدث التواصل
About this event
---
Предприниматели и те, кто заинтересован предпринимательством, добро пожаловать на нетворкинг-мероприятие, организованное Suomen Yrittäjät и Startup Refugees в Куопио 8 июня в 14-16! Мероприятие проводится на финском, но при необходимости мы организуем перевод на английский, русский и арабский языки. Если вам нужны услуги переводчика, сообщите нам не позднее 2 июня.
---
روّاد الأعمال والمهتمون بريادة الأعمال مرحب بهم في حدث التواصل بين Suomen Yrittäjät وStartup Refugees في كوبيو في 8 يونيو من الساعة 2 ظهرًا حتى 4 مساءً! الحدث باللغة الفنلندية وسنقوم بترتيب الترجمة الفورية إلى الإنجليزية والروسية والعربية إذا لزم الأمر. إذا كنت بحاجة إلى ترجمة فورية ، فقم بالتسجيل حتى 2.6.
---
Tervetuloa yrittäjät ja yrittäjyydestä kiinnostuneet Suomen Yrittäjien ja Startup Refugeesin verkostoitumistapahtumaan Kuopioon kesäkuun 8. päivä klo 14-16! Tapahtuma on suomenkielinen ja järjestämme tarvittaessa tulkkauksen englanniksi, venäjäksi ja arabiaksi. Jos tarvitse tulkkausta, ilmoittaudu 2.6. mennessä.
Kuulet inspiroivia puheita paikallisilta maahanmuuttajataustaisilta yrittäjiltä, saat tietoa erilaisista ilmaisista palveluista, joita yrittäjät voivat hyödyntää Kuopion alueella, tutustut uusiin ihmisiin ja saat innostusta arkeen.
Paikkoja on rajoitetusti, joten varaa (ilmainen) paikkasi pian!
Tapahtuma järjestetään yhteistyössä Savon Yrittäjien, Business Centerin, TE-toimisto, SAKKYn, Business Kuopion ja Kuopion seudun Uusyrityskeskuksen kanssa. He sekä Suomen Yrittäjät ja Startup Refugees kertovat tapahtumassa kuinka he voivat tukea uusia yrittäjiä.
Ohjelma:
14.00 Tervetuloa!
14.05 Paikallisia palveluita yrittäjille, osa 1
14.30 Yrittäjätarina: Wonderbee, Arezoo Rahmani
14.50 Paikallisia palveluita yrittäjille, osa 2
15.10 Yrittäjätarina: Kulttuurikahvila NY
15.30 Verkostoitumista ja pientä purtavaa
16.00 Tapahtuma päättyy
Price

Free

Data protection