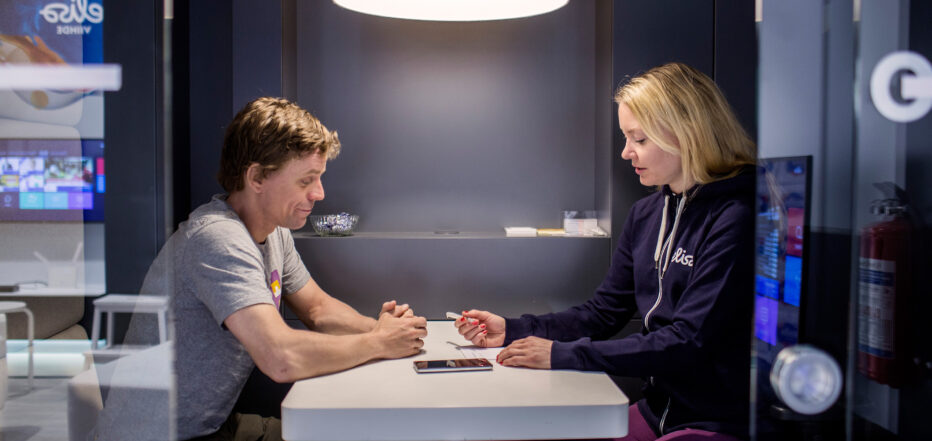 Subscriptions and IT Services
WE AT ELISA want to make entrepreneurs' lives easier with efficient tools and connections. We offer hundreds of euros worth of diverse benefits to members of Suomen Yrittäjät. You get discounts on subscriptions, mobile broadband, corporate numbers, Elisa Viihde and Elisa Kirja, among other things, as well as device benefits that change monthly.
Read more about our member benefits at: https://yrityksille.elisa.fi/yrittajajasenen-edut
Seasonal benefit, valid until 30.9.2022:
Initialization of the Elisa Oma IT service now 20% off regular prices!
Forget IT troubles and start using Elisa Oma IT. Elisa Oma IT provides your company with support in case of problems, monitoring in case of incidents as well as IT and device maintenance.
---
Discounts on 5G subscriptions and 5G broadband
As an entrepreneur member, you get discounts on Elisa 5G subscriptions and broadband. With Elisa Yritysliittymä (600 M), your phone has an ultra-fast internet connection, and the mobile broadband is always with you wherever you go.
⟩⟩ Read more about the offers
Corporate numbers free of charge
With Elisa Puheratkaisu Vakio, you can make your company easier to reach. As a member benefit, we offer you 10 corporate numbers with a 010 prefix free of charge. If needed, you can also buy 10 more numbers at half price.
⟩⟩ Read more
IT help from Yritysguru and Omaguru
As a Suomen Yrittäjät member, you'll receive 20% off the prices of the Yritysguru and Omaguru IT services. Yritysguru provides instruction and assistance with all IT-related problems quickly and conveniently by telephone, even if you have a subscription with another operator. With Omaguru, you can arrange a visit to an Elisa shop for assistance with any regular IT problems.
⟩⟩ Note: Suomen Yrittäjät members receive IT help via their own Yritysguru number found on the member service page (jäsenpalvelu).
Enjoy Elisa services also during your free time
As a member of Suomen Yrittäjät and a business customer of Elisa, you will receive a saving of 120 € from the Elisa Viihde Premium annual subscription. Elisa Viihde Premium is a TV service for the whole family, and it includes recordings, subscription channels, and streaming services in a single package.
As a Suomen Yrittäjät member, you also gain one month's access to the Elisa Kirja service for the price of €0!
⟩⟩ Read more about the offers
Service available through Yrityspiste, our customer services and our website
For personal service through Yrityspiste, book an appointment at www.elisa.fi/ajanvaraus or by calling our corporate customer services, tel. +358 10 80 8088*.
Our online shop is open 24/7. Access our online shop at yrityksille.elisa.fi for devices at an interest-free monthly price.
* Call price 9.35 cents per call plus 16.69 cents per minute (VAT 24%).
» Further instructions can be found in the membership service.