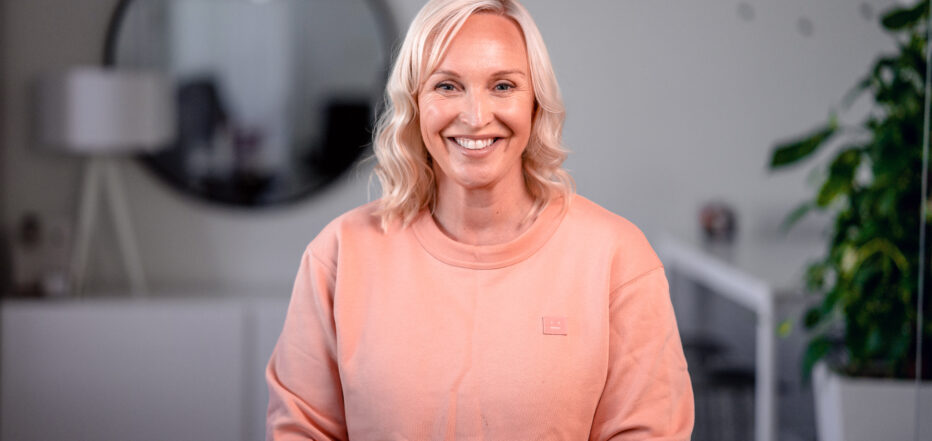 Jutta Larm | Xemax Oy
"The legal counselling is an amazing service"
Jutta Larm realized she had an entrepreneurial drive when she was a little girl. She's already gained experience in several sectors. In the twists and turns of running her own business, Larm has relied on the help and services provided by Suomen Yrittäjät.
The public know Jutta Larm from her company FitFarm. However, not many people know that Larm's entrepreneurial career began in childhood. When she was in lower secondary school, she rented an ice cream stand in her hometown of Virrat for the summer.
"I'd worked in a kiosk the previous summers and worked out that I'd make three times as much as an entrepreneur compared to continuing as an employee." That had a "wow effect" on her.
"I inherited the entrepreneurial gene from my dad, who still runs a barber shop, even though he's turning 80 this year," Larm says.
Larm's entrepreneurial path has taken her through many fields and has included some rough patches along the way, but she's always found the strength to keep going.
"The best thing about an entrepreneurial mindset is the drive to just make it work," she says. For Larm, it is important for entrepreneurs to have someone who takes their side. That is why she is a member of Suomen Yrittäjät.
"I've sometimes been asked to go into politics to defend business owners' interests, but maybe I don't have what it takes for that. I think it's important for someone else to speak for me. On the whole, business owners have the same needs and views, and someone needs to bring the message to the politicians. It's difficult to do that by yourself, but it's easier when you're a big group," she says.
"For me, too, maybe it's a matter of honour that business owners should all pull together," Larm says.
She has also found Suomen Yrittäjät helpful and useful.
"The legal counselling is an amazing service. My company has used it when we've had legal advice needs. We've mostly sought advice on employment contracts and employment in general.
Making the dream come true
Jutta Larm's newest project has gained visibility well in advance of it actually beginning. This project is Kuru Resort in Rantasalmi in eastern Finland. The original idea was to build a resort in Ylöjärvi near Tampere, but that plan fell through.
"We'd already made some progress, but a complaint from the ELY Centre [Centre for Economic Development, Transport and the Environment] stopped it in its tracks. When I recovered from that setback, I thought: everything has a purpose."
A new opportunity soon presented itself near the Hotel & Spa Resort Järvisydän.
"The owner contacted me and said they had reserved the best spot in Järvisydän for us. Our dream came true. Now I'm actually grateful to the ELY Centre for torpedoing my project.
"The main building has a restaurant, relaxation spaces and a day spa. This is a significant financial investment, but that doesn't scare me. In the morning, I know why I'm getting up to do the work," Larm says.
The biggest impact the Covid crisis has had on Xemax is the closure of gyms.
"Right at the start, I noticed consumers were tightening their purse strings. The law closed gyms in spring 2021, which naturally had a huge impact on training in gyms," Larm says.