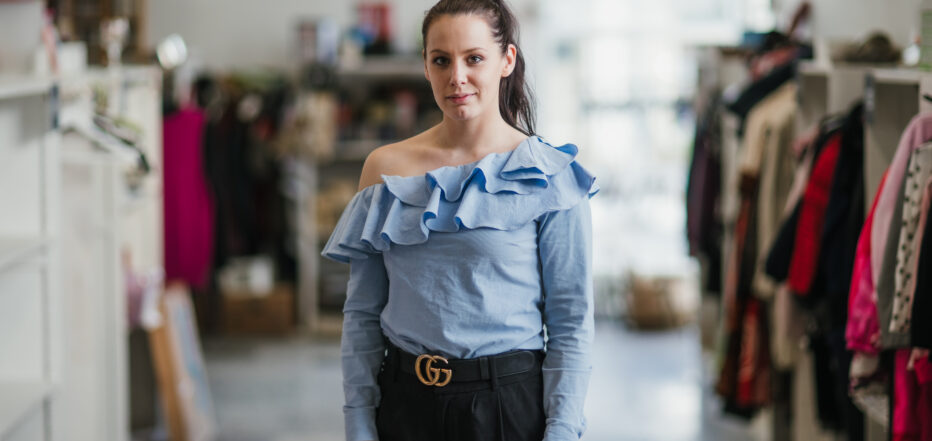 Mariia Harjunheimo | Kirppis Sakura
"I must be a bit mad — I dared to expand during Covid."
The Kirppis Sakura is a second-hand shop specializing in children's clothing in Lapua that people come to especially from as far away as Helsinki. Even though the times are tough, the owner Mariia Harjunheimo has added a café to her shop. Her colleagues have encouraged her, and there has always been someone in Suomen Yrittäjät who can help quickly, for example in the finer points of sending mail.
When Mariia Harjunheimo bought Kirppis Sakura from her brother six years ago, that perfectly coincided with a boom in sales of used children's clothes.
"We first had a general second-hand shop, but the idea to specialize came from our own needs, as my son is turning four soon. Recycling children's clothes and supplies is sensible and trendy. The small product batches of Finnish manufacturers, in particular, retain their resale value well, and customers are willing to travel far for the products they want," Mariia Harjunheimo says.
That means that the likes of Gugguu and Mini Rodini products go from Instagram pictures right to new users' letterboxes. Other people bring bag loads of outgrown children's clothes to the shop. The service includes a fixed-price sales table that the seller takes care of or asks the staff to restock. Sellers can also buy pricing as a service from Kirppis Sakura. No commission is charged on sales.
You have to be a little mad
Covid hit Sakura too, and in the first wave the business had to close for two months. However, by the autumn, the business has recouped the drop in sales, and Mariia Harjunheimo was pressing full steam ahead with her new plan: opening a café next to the shop and hiring a pastry chef. The second-hand shop already had a breastfeeding corner and a play corner — and now it has a café too.
"I must be a bit mad — I dared to expand during Covid. But there was no call for sitting on my laurels," Mariia Harjunheimo says.
In the end, she even had enough courage to expand to another town. Harjunheimo and her business partner bought commercial property in Seinäjoki. The new business was opened on 1 July.
"Staycationing is now popular, and it shows in our shop too. Recycling and being ecological are modern phenomena. I believe that even if Covid doesn't disappear off the face of the earth, we'll learn to live with it."
Harjunheimo has received great support from other members of Lapuan Yrittäjät.
"In my opinion, everyone should join Suomen Yrittäjät. There's no way of knowing in advance how much you'll benefit from networking. Whether it's cleaning or marketing, I have contacts in all kinds of partner businesses."
Mariia Harjunheimo has also used the free member services provided by Suomen Yrittäjät.
"I've received brilliant advice, for example with the finer points of mailing parcels. You get an answer from Suomen Yrittäjät right away, because the switchboard connects you straight to the right person. That saves a lot of time."