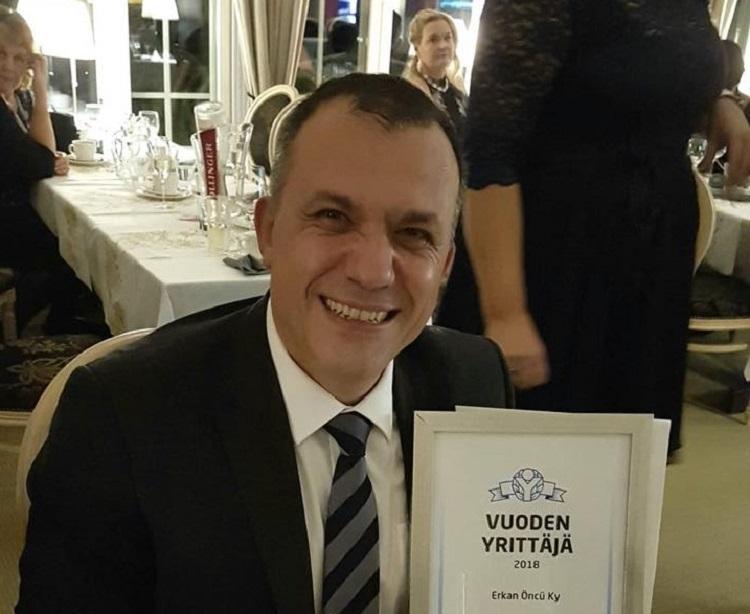 Erkan Öncü selected as Entrepreneur of the Year: "I worked 22-hour days"
When he opened his kebab and pizza restaurant, Erkan Öncü worked up to 22 hours a day. In addition to his restaurant in Kotka, Entrepreneur of the Year Erkan Öncü is now involved in the property and hotel business – and he has time for his little princess.
When he moved to Finland in 1993, the young Erkan, already a Turkish war veteran, first worked as a plumber. It went well, even though his left hand and right knee had been injured in his time in the army.
Later, Erkan found his way to the hearts of the people of Kotka through their stomachs.
"When I opened my restaurant in 1998, starting up as a small business owner was hard," Erkan says.
Starting a business and dealing with the red tape that went with it were not too difficult, because his Finnish ex-wife helped, but learning the ins and outs of Finnish work and business culture took time.
"At the start I had two employees and I did the work of four people. At the weekends we only managed to close up at five in the morning, and sometimes I worked 22-hour days. I was young, so I coped, and I wanted to succeed," Erkan says.
In the beginning, a lot of Erkan's customers were people he knew from his time as a plumber, the plumbing company's customers, and their friends.
"Little by little, the reputation of my kebab and pizza restaurant spread and we got more customers," Erkan says.
Getting into the property business
A lot of kebab restaurants and pizzerias have opened in Finland over the years. Erkan realized that he had to change his concept, both as an entrepreneur and a restaurant owner.
"I started investing in property. I bought the whole building at Keskuskatu 35 in 2007," Erkan says.
The large property had several business premises on the ground floor, in addition to his restaurant, and upstairs there were offices.
The demand for office space in Kotka was declining. There was, however, demand for bedsits and one-bedroom apartments, which is what Erkan decided to convert the offices into.
"We did ten apartments. We sold some of them and leased the rest. I do now want to buy back the ones I sold back, though."
At the same time, Erka renovated the whole building. He had plans and permits to build a 25-room hotel, but in 2008 the recession hit and he decided not to go forward with the project. (ARTICLE CONTINUES AFTER THE VIDEO)
Hotels in Turkey
After renovating his building, Erkan next decided to overhaul his restaurant. He turned his kebab and pizza restaurant into the Erkan Bistro & Restaurant.
"When we opened up three years ago we never imagined so many people would come. I'm grateful to the people of Kotka," Erkan says.
"We absolutely still serve kebabs and pizza, but we have salads, steaks, burgers, and now pasta, too."
The restaurant seats 50 guests, with an additional 40 seats on the summer terrace.
The company Erkan Öncü Ky has seven permanent and ten summer staff. Erkan says that the company, a limited partnership, has a turnover of about €600,000–700,000.
Erkan is now a shareholder in companies in his native Turkey. He and his brother-in-law own a hotel and café in Izmir and next month they are opening a 27-room hotel in the city of Salihli, near Izmir.
"Family is the be-all and end-all"
Erkan has learned over the years that there is only so much work a person can do.
"You can't have your foot on the gas all the time. Even I had to take sick leave," Erkan says.
He has hired extra staff in Kotka and now focuses more on managing his businesses.
"For me, family is the be-all and end-all. When everything's good at home, you can see it business, at work and in your social life. My family give me strength," Erkan says.
The family lives in Tapiola, Espoo and Erkan drives from there to Kotka four times a week.
Erkan has three children. With his Finnish ex-wife he had a boy, who is now a young man. With his current wife, who was born in Turkey, Erkan has two children: a girl, aged about a year, and his wife's 12-year-old boy from a previous marriage.
"My son's just turned 20, and I've thought about how quickly the years fly by. I didn't manage to spend as much time with him as I would have liked when he was little, because I was at work so much.
"Now I've got my little princess and I intend to spend as much time with her as I can," Erkan says.
Of course, he's also got new business plans. Erkan plans to open a new kind of food service business, operating in four or five places in the Helsinki region, in the near future.
Jari Lammassaari. Translation: Ian Mac Eochagáin, Maceochi Language Services