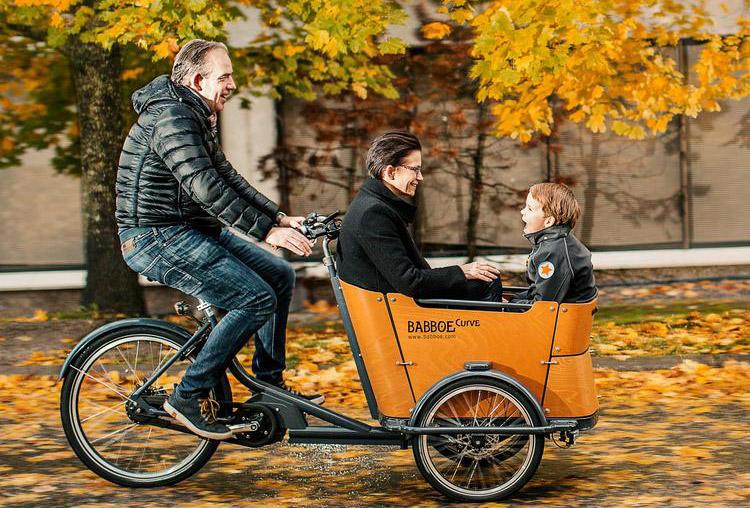 From Holland a bike that is so much more than a bike
This Dutchman sold gardening products for a living. Now he sells bikes that can carry gardening products – and a whole lot more. Dutchman Gert-Jan Hendriks stumbled on an untapped market in Finland and adapted his sales techniques to meet the expectations of his new customers. His products can be seen on a daily basis delivering children and other precious cargo in the parks and on the sidewalks of Finland.
Gert-Jan Hendriks was trained as a horticulturist and initially built a career as a successful export manager, based in the Netherlands. The job required a great deal of international travel, very attractive to a young man out to make his mark on the world.
However, his priorities changed when he met his future wife. Suddenly, a stable family life became important and travelling to meet customers became a burden. The couple made the decision to settle in Finland, her homeland.
Mr. Hendriks found that his experience as a salesman and a horticulturist was in demand in Finland. Within weeks of relocating to Finland, he had found work as an export manager for a Finnish fertilizer company. He was responsible for sales in Germany, France, Belgium and Holland – and, therefore, spent all of his time visiting customers outside of Finland.
It quickly became clear that settling down meant finding a job with much less travel. Entrepreneurship seemed a likely path, but he didn't immediately have a promising service or product. He did, though, have a good idea of the challenges of business in Finland. Importing products into Finland's small market is difficult; exporting from Finland's small production capacity is difficult.
Time for a change
A serendipitous encounter while on holiday provided the idea that would take Mr. Hendriks out of the corporate world and into the world of Kultaiset Pojat Oy. Mr. Hendriks and his wife were visiting Holland and bought a cargo bike so they could enjoy biking with their young son. On a whim, he asked if they exported these bikes to Finland. The answer: "No – would you like to be the exclusive dealer of Babboe cargo bikes in Finland?" Both sides would have been satisfied to sell a few bikes a year.
For a few years, he sold bikes while continuing with his full-time job. He met potential customers outside of working hours, an arrangement which he found particularly effective in selling bikes. His customers also had jobs and it was easier for them to see the bikes on weekends and in the evenings. Originally, his target market was families with children between the ages of one and eight. He spent his weekends visiting trade fairs aimed at families with young children. As he saw that people were interested, he realized that there was room for him to expand his offerings to cover more price points. He was soon able to offer, in his words, "Toyota, Mercedes and Ferrari" cargo bikes for the Finnish market and, by 2015, he was ready to sell cargo bikes full-time.
If only the country were bigger and the weather were better!
His most significant challenges have been the size of the Finnish market and the short biking season. Most of his sales come between April and September. In addition, he sees a growing, but still incomplete biking infrastructure. As a Dutchman, he knows what a biking culture can look like. Doing business in Finland has brought its share of surprises. He has adjusted his sales techniques dramatically in selling to the Finnish public. Finns are very patient buyers and are rarely won over by one-time offers of discounts or the personality of the salesperson. He has found the art of a deal has a lot to do with offering a great product and being available to spend time showing a customer all the benefits.
He has continued the practice of meeting his potential customers on their schedule. His showroom is not open regular business hours, but interested customers make an appointment. "I'll meet people any time, day or night!" he says.
Cargo bikes are good for business
In moving forward, he sees great potential in selling cargo bikes to businesses. For example, a company that would like to serve: no break snack food can pay rent for a highrent space and try to attract customers or they can buy a reasonably-priced bike and travel around to where the customers already are – the park or the beach.
He also hopes that businesses will use cargo bikes as promotional vehicles. A cargo bike riding through a high foot-traffic area is sure to attract the attention of passersby. E-bikes and folding bikes also hold promise for the next stage of the company's development.
The need to meet a variety of markets has forced Mr. Hendriks to adjust his thinking from his earlier experience in sales. "My basic principle has always been to be the strongest in my segment and focus. But in this case, the segment is too small and I need to offer a wide range of products."
Biking into the future
The future prospects for Kultaiset Pojat depend on positive trends in both the business environment and the biking environment. He appreciates the work that the Federation of Finnish Enterprises does to promote the entrepreneurial climate at all levels in both society and government. He has also found the federation's networking opportunities helpful in convincing other entrepreneurs of the value in using cargo bikes in their businesses.
Because biking contributes so many benefits to society, he hopes that the government will do more to invest in the infrastructure. More people on bikes means less CO2 emission, traffic congestion and fossil fuel use. It also raises the general fitness level of the population.
Kultaiset Pojat Oy is in a great position to help bikers carry children, dogs, goods, food and messages.
by: Deron Fuller Photo: Nina Mönkkönen
This article was originally published in Business Espoo 2018-magazine.
Muita kiinnostavia aiheita