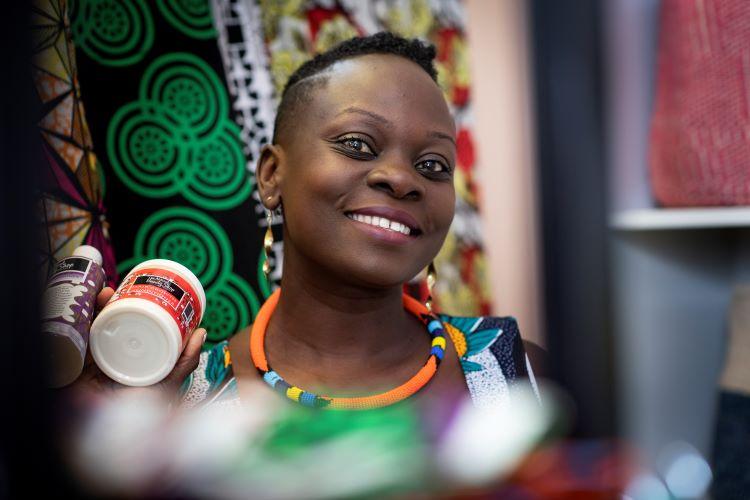 Harriet moved from Uganda to Finland and wanted to start her own business rather than retraining
Harriet decided to start running her own business in 2012, even though the authorities were not excited about her business plan. For some clients today, her shop in Helsinki is a destination in its own right.
If Harriet Aryenda, who moved from Uganda to Finland, had listened to the authorities, she would be wearing a white uniform today. Instead, she glows in a colourful dress she imported herself.
"When the unemployment office suggested I go on a retraining course, I wasn't taken with the idea. The clerk at the office talked about the best work opportunities and training to become a practical nurse or a nurse, but I had something else in mind," Harriet Aryenda says.
Harriet, who had moved to Helsinki because of her Finnish spouse, wanted to start running her own business without doing a language course first.
"I knew a lot of people who were learning Finnish, but their skills weren't great. I crunched the numbers for years and knew that I wanted to become self-employed as soon as possible."
Her university studies from Kampala, Uganda had already been recognized as the equivalent of a B. Sc. Soc in Finland.
"I didn't go on any benefits, not even adjustment benefit, when I came to Finland, but nor did I need to do the cleaning jobs the employment authorities suggested to me right at the start," Harriet says.
Entrepreneurship common among women in Africa
Harriet, who moved to Finland in 2009, first worked in a nursery school and then ran an afternoon club in a school. She realized she wanted to be an entrepreneur when she was on maternity leave.
"I had done some retail work on the side in Uganda in addition to working with street children."
Harriet planned her shop in a confident frame of mind: she believed that African décor, fabrics, handicrafts and natural cosmetics would attract customers.
"I didn't feel I had to go the most difficult route, risking a lot of money – instead, I decided to expand my range little by little."
She hopes that African women can be seen as go-getters in Finland, too.
"We immigrants – both men and women – are brave, as we've already taken a risk in leaving our homelands, cultures, families and languages. When experience speaks, language is often secondary," Harriet says.
Highly educated women in East Africa typically run a kiosk or a small clothes shop alongside their main job. Harriet Aryenda, too, had got a feel for running her own business in her homeland.
Uganda has the highest number of businesses per capita in the world, and women there are both heads of their families and entrepreneurs.
Harriet has read lectures about starting one's own business to the Uganda-Finland Society.
"Finnish bureaucracy is not impossible. You just have to believe in your own ideas. And we women have to grasp the fact that Finland is a free country. Here, women can choose – they don't have to stay at home being depressed."
Unemployment office doubted success
Harriet Aryenda did not receive support for her business plan at first.
"They told me there wasn't enough of a market for African products, but I just talked and talked."
In the end, the unemployment office granted her initial funding, and Natural Beauty Shop, Helsinki opened on Hämeentie, Sörnäinen in 2012.
The physical shop is now complemented by an online store. The most popular products are the traditional East African natural cosmetics made by the owner herself.
"For example, the shea, or karite, that I order from Uganda is easier to use and softer than the shea used in products sold in Finland."
Harriet makes her products on separate premises.
"When we talk about a factory, it's still kind of a joke," says Harriet, who now employs her husband.
Topi Nakari, who is responsible for the online store of Natural Beauty Shop, Finland says that they have considered expanding the business.
"The curly girl trend and the products that go with it have been great for our sales. And our reputation has spread too. One woman came from Rovaniemi to Helsinki just to visit us, and one father told us that his atopic son was able to do his military service thanks to our soap."
Leila Itkonen
leila.itkonen (at) yrittajat.fi
Yrittäjät is looking for an Immigrant Entrepreneur of the Year
Suomen Yrittäjät is searching for an Immigrant Entrepreneur of the Year for the first time this December.
Whoever can nominate candidates for the award by 20 November in Finnish or English.
"We are looking for doers who, in spite of language barriers and a different operating environment, have succeeded, created something new in their fields, and shown an exceptionally entrepreneurial attitude," Aicha Manai, network manager at Suomen Yrittäjät, says.
We hope the entrepreneur will convey a positive attitude to life and business.
Aicha Manai says that to win, an entrepreneur's business must be profitable and have growth prospects.
The idea for organizing the competition came from immigrant entrepreneurs.
"As someone who's worked in Finland for a long time, I know that running your own business is hard, particularly for entrepreneurs. There are a lot of people out there running low-threshold businesses, but they are not seen or noticed anywhere," Ali Giray, chair of the Suomen Yrittäjät immigrant entrepreneur network, says.
The winner will be chosen from among five finalists. The Immigrant Entrepreneur of the Year 2019 will also receive a €3,000 prize provided by the pension company Elo.
toimitus (at) yrittajat.fi
PARTICIPATION CRITERIA
The entrepreneur was not born in Finland.His or her native language is not Finnish, Swedish or Sami.
The entrepreneur is an exciting example for other immigrants and entrepreneurs in general.
The entrepreneur has registered a business in Finland which has been operational for at least three years.
The entrepreneur and business have an unblemished reputation.The business has the requirements for continued success and its finances are in order.
The entrepreneur and business have met their tax and other statutory duties as an employer and an entrepreneur.
A pair or team of entrepreneurs may participate in the competition. A single-person business may also be nominated.
The entrepreneur can not be a member of Suomen Yrittäjät's Immigrant entrepreneur network's management team
You may nominate an entrepreneur by using this form.