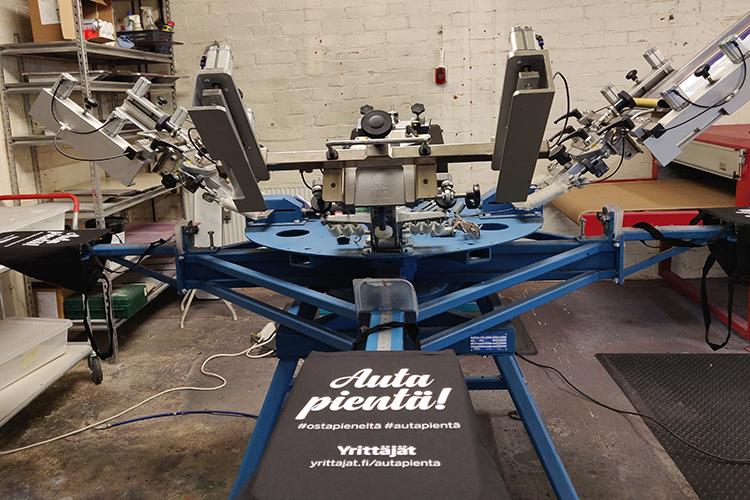 Help small businesses! -bags are created in a two-man company in Tampere – the campaign has been widely popular in the media
Bags reminds you of everyday choices. Now if ever is the time to support small companies!
Suomen Yrittäjät are selling the bags in their online store. The purpose of the bags is to show support and remind consumers that small everyday choices play an important role for small entrepreneurs. Now it's the time to favor a local small busineses.
Suomen Yrittäjät started the Auta pientä! (Help small businesses!) -campaign on Saturday, March 14th.
"The idea of the Help small businesses! -bag is that everyone can help. By directing shopping now to small entrepreneurs you can be part in preserving domestic jobs," says Taru Jussila, Communications Director for Suomen Yrittäjät.
With the power of entrepreneurs
The bags and the campaign was designed by Graphic Designer Nuppu Vehmasaho in Lahti and printed in Tampere, by a company of Tomi Gullstén and Jussi Leppänen.
The Tampere-based entrepreneurs had also thought about the bags being suitable for the entrepreneurial organization and offered them to be printed.
The media has joined in
Auta pientä! -campaign has been widely visible in the Finnish media. It has been seen in Sanoma, Alma Media, Keskisuomalainen Group, Otavamedia, A-magazines, Aller and numerous regional and local media.
"Suomen Yrittäjät is extremely grateful for all the media space. On the Auta pientä! -campaign site, everyone can get tips on how to help small entrepreneurs. You can also search for SMEs in your locality," Jussila says.
The printing company is a bit afraid of the upcoming summer
The companys clients often includes student associations and their overalls and badges. The company also makes business gifts from sports clubs and bands.
Now the corona epidemic is affecting the operation of the printing house.
Entrepreneurs have wondered how they could change the course of their operations and find development targets. One option is a marketing campaign and opening up activities in the direction of more consumer business.
"We hope, of course, that consumers will find these bags, show their support says Gullstén.
Elina Hakola
elina.hakola(at)yrittajat.fi
Muita kiinnostavia aiheita