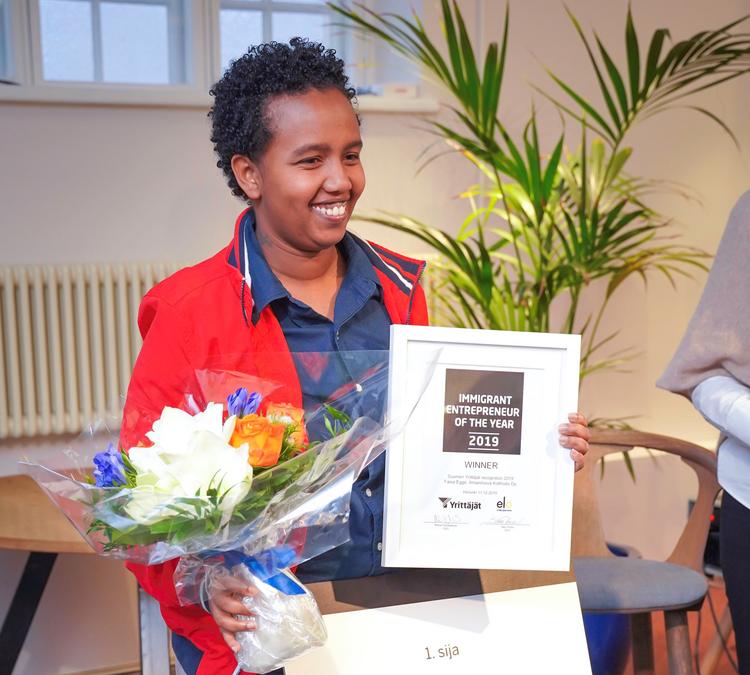 Immigrant Entrepreneur of the Year Faisa Egge built a successful life in Finland with the right attitude and hard work
Faisa Egge, from Kokkola, the founder of Amanihoiva Kotihoito Oy, is the Immigrant Entrepreneur of the Year 2019.
Faisa arrived in Finland in 2008 with two suitcases and a thousand euros in her pocket. That was all she had when she began her new life in a country she barely knew anything about.
"I wanted to study at a university or a university of applied sciences and I'd heard that stipends were available in Finland. In Kenya universities are few and far between, and expensive. Only a small percentage get to study at university," Faisa says.
The beginning was hard. Faisa had imagined she would find work, but that was difficult without language skills and experience. She got her first job in a pizzeria, but didn't ask about wages or a contract.
"I'd start at four in the afternoon and finish at midnight. I got €20 per day and was happy. People I knew told me it was illegal and to quit right away, but I figured it was better than nothing. I only handed in my notice six months later," Faisa says.
No calling mum
In hindsight, Faisa thinks that her arrival and introduction to Finland taught her humility, even if it was difficult. She could barely afford rent and groceries. But no matter how bad things got, she was determined not to call her mother.
"My mother has four kids, all of whom are studying. I just had to make my dream of making it in Finland come true," Faisa says.
In June and July, she got summer jobs in a hospital and worked hard. She would constantly ask if she could be of any assistance. One August she began studying nursing but was allowed to keep working shifts in the health centre and then the central hospital. She often did two shifts in a row until she realized there was no point.
"I wasn't getting enough rest, nor was I being paid enough for the work I was doing, as so much was being taken out in tax. I also wanted to do something for myself," Faisa says.
The hard way
Faisa decided to apply for initial funding to start her own company. The amount of red tape surprised her, but she got the funding in the end. She did not expect that she would have to quit her job at the hospital, and thus lose a source of income.
Faisa ran into preconceptions about whether a foreigner could do care work. That meant she would do anything at all, including cleaning windows. She also offered introductory visits for free, but realized clients were taking advantage of them and not calling her again.
"I called associations and potential clients directly. I felt really desperate at times and wondered what I'd let myself in for. I often thought of going back to my job at the hospital for a more secure income. But then the phone started to ring," Faisa says.
She learnt how to write contracts, create a quality system for her company, launch a website and do marketing.
Faisa then realized she was tired and almost depressed: she was working from morning to night. She had to get help, which is when she learned how to hire people.
"It was tough at first. You have to find people who share the same values and bring something from their own culture with positive energy. I'm still learning new stuff all the time. The support I get from others is important," Faisa says.
Amanihoiva Kotihoito now employs around ten people.
Faisa has also stood as a candidate in the local elections in Kokkola.
Story seals judges' decision
The features that were highlighted in the immigrant entrepreneur of the year competition were profitable business operations, growth opportunities, strength of example and attitude. Almost a hundred entrepreneurs from all over Finland were nominated.
The other finalists were Rajkumar Sabanadesan of Kaksi.nolla Oy from Pirkanmaa and Douglas Castro of Darkglass Electronics Oy and Neural DSP Technologies Oy from Helsinki.
Faisa Egge won the judges over with her story and attitude.
"I also value the fact that she operates in a city that is not very large. There is immigrant entrepreneurship outside a few big cities," says Suomen Yrittäjät chair and jury member Jyrki Mäkynen.
The award is worth €3,000. The funds were donated by the employment pension company Elo.
"Faisa Egge has been wonderful in introducing the light and positivity of her homeland to a sector which needs more skilled, motivated labour. The dedication she learnt as a child, her care for people and positive attitude represent just the kind of attitude we want to highlight through this competition," says Satu Huber, CEO of employment pension company Elo.
Winner's advice: do something original
Faisa's company provides home care services to seniors and personal assistance to disabled people. She initially operated as a sole trader but then registered her business as a limited liability company on 11 December 2015 – almost exactly four years ago today. The company is growing its profits, customer base and employee numbers year on year in Central Ostrobothnia.
Even though her path as an entrepreneur has not been easy, Faisa encourages others to start their own businesses.
"I'd give this advice: do something original. Just focusing on one kind of business isn't worth it. We have to show what we can do, integrate and build communities," Faisa says.