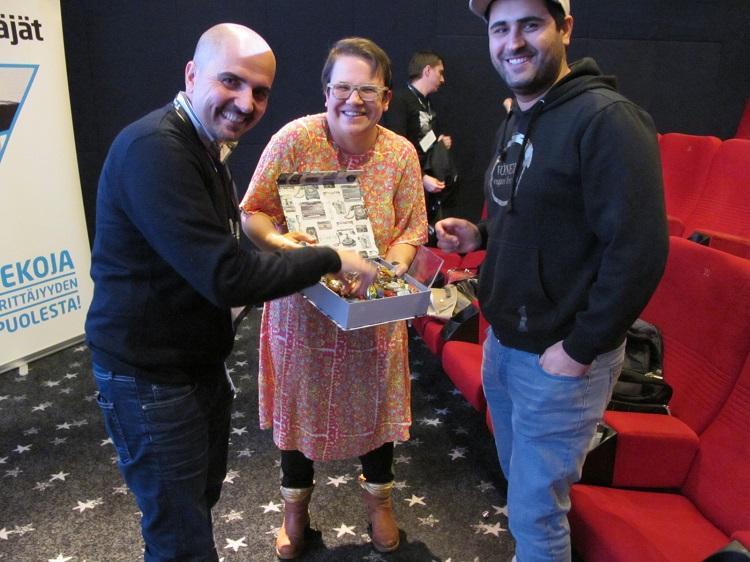 Immigrants more passionate about entrepreneurship – "I realized that what I do is valuable"
Entrepreneurs with a foreign background got advice for running their own businesses at the Business Unplugged event. The event was aimed at making immigrant entrepreneurs' voices heard and their passion for entrepreneurship visible.
Around a hundred entrepreneurs and people considering starting their own businesses gathered in the Tennispalatsi cinema in Helsinki for the Business Unplugged event, organized by Suomen Yrittäjät, which brought immigrant entrepreneurs together in one place. An event of the same type had been organized the previous week in Turku, which about 70 people attended. Both events attracted teachers from various educational institutions.
On the programme were talks by entrepreneurs, and workshops orientating participants in customer experience and prototype development using service design methods.
You can read more about the speakers at the Turku event here.
"Statistics show that immigrants are becoming more passionate about running their own businesses. The aim of this event was making immigrant entrepreneurs' voices heard and bringing out their passion for entrepreneurship. We hope to run more events like this in more cities," Kaisu Keisala-Kaseja, immigrant project coordinator at Suomen Yrittäjät, says.
According to Statistics Finland, there are 10,000 immigrant-founded businesses, employing 30,000 people, in the country. Their share of all businesses is 3.5% and they have a combined turnover of €3.5 billion.
According to the Finnish enterprise agency centre, Uusyrityskeskus, its member agencies have seen 26% more immigrant clients in Espoo, 36% in Helsinki and 37% in Vantaa. The increases in other cities have been noticeably smaller.
A company born of necessity
One of the speakers at the Helsinki event was Sabah Abdulkadir, who founded her own label for modest clothing, Queens. As a Muslim woman, she found it difficult to find clothes in shops like Zara and H&M that were long and sufficiently concealing, that were not revealing and which would reflect northern European and Scandinavian style.
"The business idea came from a need of mine. In Western clothes shops, blouses are often revealing, for example, and the long skirts they sell would be good if they were five centimetres longer. I end up having to put something else on underneath. That means a lot of layers," Sabah says.
Often, finding garments that match well can be difficult. Sabah was born in Somalia but grew up in Denmark. She likes the simplified Nordic style.
"My style is relaxed, and I like clothes that focus on the cut and on simple colours. With the Queens range, you just need a skirt and blouse, not lots of layers," Sabah says.

She had her business idea in 2012, but as a business student she did not have any experience or knowledge of the fashion industry or professional fashion design skills. She read books, studied the basics of the sector and developed her ideas in addition to her day job.
A young freelance Italian designer she found online helped her design the clothes, which are manufactured in China.
In 2015, Sabah and her husband launched an online store. At first, the clients were international, from such places as the UK, Germany, the US, Canada and east Asia. Finnish clients started to find the brand after Sabah opened a shop in the Puhos shopping centre in east Helsinki.
Last February she left her day job at the card company Nets and now concentrates full time on her clothes shop.
"I want to grow my business, but there's still a lot to do. Maybe I should move to a new location, like the Itis shopping centre. I'm also planning on investing in my website to make it more international," she says.
Fast growth
Mayuran Kamalanathan was the second speaker at the event. His All Rounders Group has grown over the years from a transport and bus cleaning company to a group of six companies. Its services now include office cleaning, temping and wholesale.
Mayuran estimates that the group's turnover this year will be around €7.5 million. It employs 60 people directly and close to 200 through its partners.
At Business Unplugged, Mayuran spoke about the story of his companies and of himself as an entrepreneur. He and his business partner are Tamils from Sri Lanka who moved to Finland as children. The company started its operations with van transport services and soon expanded into round-the-clock servicing of buses. Most of the group's employees are immigrants.
"People often talk about entrepreneurship negatively, but I criticize that. An entrepreneur needs to spend time and energy on solving problems, but the core of being an entrepreneur is that the problems can be solved. If you can't overcome the initial challenges, maybe it's not worth starting your own business," Mayuran says.
"Running a business in Finland could be easier, but it's not impossible," he says.
From a personality to a business
Verena Rentrop's business idea, Chocolate Angel, sounds crazy, but it just works.
Verena has branded herself as a 'chocolate angel' who comes to events, meets every guest with a smile and serves chocolate. Chocolate Angel shares little moments of joy and love.
"I can make 150 people happy in an hour!" Verena says happily.
The Chocolate Angel story began ten years ago when Rentrop was working at Nokia. She decided to start bringing chocolate to work and share it with all her colleagues at their desks. There did not seem to be opportunities for real encounters at work, and offering sweets seemed a good way to overcome that.
"During the working day, something is always being asked of people. Then when you meet someone who offers you chocolate and a smile, and doesn't want anything from you, that creates a positive moment. A big smile is infectious, whether it's from a big firm's CEO or someone lower down the ranks."
Verena's own behaviour and personality turned into business operations two and a half years ago. Those operations cover her overheads and allow her to make a living. Regarding her plans for the future, she says the following:
"I realized that what I do is valuable. I intend to keep doing it for the rest of my life. I get an unbelievably cool energy from it."
Verena is originally from Germany but lives in Finland and does not intend to leave. She thinks that running a business is easier in Finland than in Germany.
"In Germany, I'd just be one among many. Finland is a small country, but a lot of events happen here, and networking is easier. In Finland, starting a business is easier than in Germany, too," Verena says.
At Business Unplugged, she spoke about her own story and the importance of networking, leading and communication. After all, Finns have work to do in these areas.
Elina Hakola
elina.hakola (at) yrittajat.fi
Muita kiinnostavia aiheita