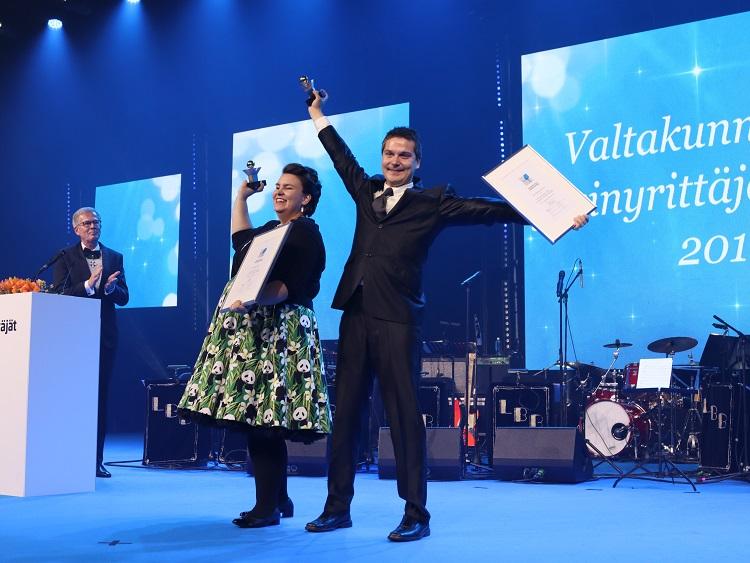 Linda Saukko-Rauta and Jaakko Marin: the first recipients of the single-person business award
Both award recipients offer skills for the digital age.
The National Single-Person Business Award of the Year was given out for the first time at the main event of the national Entrepreneur Days, held by Suomen Yrittäjät in Lahti on Saturday.
The recipients were Jaakko Marin, an IT service management specialist whose company JSM Consulting is a pioneer in IT service management, and Linda Saukko-Rauta, who describes herself as the Aunt Kylli of the digital age, a reference to a famous children's television personality.
IT service management (ITSM) is a very recent and little-known sector, despite its prevalence in all industrial sectors as one of the most efficient IT services. JSM Consulting is the third company in Finland to achieve the highest-level accreditation as a provider of training that leads to ITSM certification.
Jaakko Marin has succeeded in achieving a position in his field in which he can compete successfully against international giants as a one-man company.
"In big firms, a consultant can only focus on one specialized area, but I operate in the entire service management area, all the way from the management group level to production optimization," Marin says in an interview in Yrittäjäsanomat magazine.
Marin finds himself constantly explaining initialisms such as ITIL and COBIT.
"Not many people have yet realized that servicification is an example of a megatrend that is spreading rapidly to all areas of industry," Jaakko says.
The digital-era Aunt Kylli
Linda Saukko-Rauta does live illustrations at seminars and other events. They give the audience a clear grasp of the content of presentations. Her first live illustration gig was in 2011, when Al Gore spoke at the Nordic Business Forum in Jyväskylä.
The digital-era Aunt Kylli's tool is an iPad. Her company name is Redanredan Oy.
"As a creator, the most important thing for me is seeing the big picture. Live illustrations are an exciting stylistic genre. Just being a good graphic artist or illustrator isn't enough. You need to be quick off the mark, to be able to tolerate mistakes and have a good working memory," Linda says.
As a business owner, Linda combines everything she has learnt in the past. As a former language teacher and online pedagogical planner, she takes advantage of her competences. She has succeeded in combining family life with the eventful day-to-day running of her single-person business. She thanks her husband for that.
Read more about the recipients of the single-person business award in issue 5/2019 of Yrittäjäsanomat.
Editorial staff