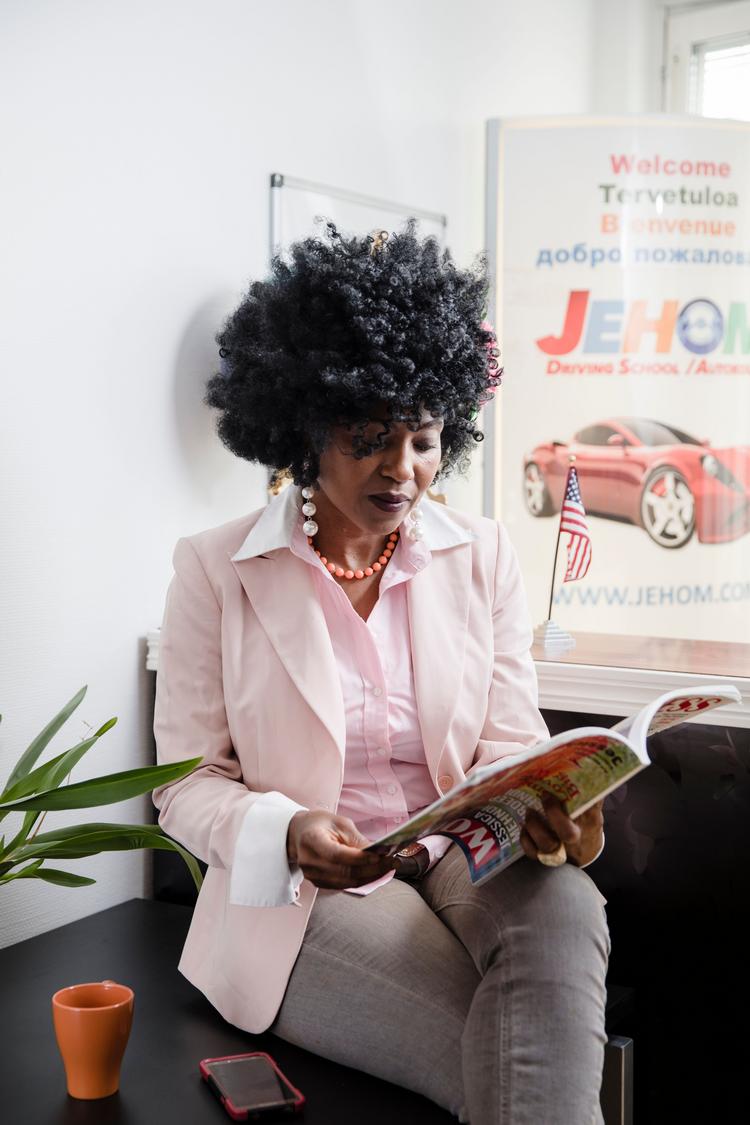 "My first recommendation for a company transfer is to find a business broker, never try to do it yourself"
Josephine Atanga is an American citizen who has lived in Finland for 6 years. Here she has studied and obtained a degree to be a nurse and has established a company. "Business run through my veins," she says.
However, being an entrepreneur is not easy; the road to success is dotted with difficulties and requires consistency and good advice to avoid mistakes, especially at the beginning. That is why many consider the option of acquiring an existing business, rather than starting from scratch. To help newcomers, Josephine explains, based on her own experience, the key issues related to business transfers in a highly regulated country like Finland.
– QUESTION: How did you end owning a company in Finland?
– ANSWER: I visited Finland about 6 years ago and a friend of mine told me about a nursing degree program at Arcada University of Applied Science which I applied and got taken into the program. A couple of years into my program I got married and encouraged my late husband that we could open our own driving school. I became the CEO of Jehom Driving School and he was the teacher and administrator. Together we ran the school for over two years when he passed away.
– Q: Was entrepreneurship your first choice then?
– A: Yes, because business run in my veins. I did business before in the US and I believe in creating your own path, running your own business and let people work for you. I love being an entrepreneur, that's me.
– Q: So, what kind of business did you set up? Was it successful?
– A: It is an international driving school where people can learn in English, French, Swedish and Finnish. Jehom Driving School was a success from the beginning. Before us, there was one international driving school in Finland but it was not owned by internationals. Ours was owned by black people and was therefore perceived as more authentic by our clients.
– Q: What has been your main obstacle?
– A: We had to struggle from the beginning with the shortage of driving teachers in the Finnish labour market. This is something that I still suffer from and it has been the main obstacle to growth. Fortunately, I now have a Finnish teacher who lived in the United States for a while and who does a great job.
A transfer attempt
– Q: But at one point you put the school up for sale. Something went wrong?
– A: Yes, even though the driving school was a great business, I did try business transfer. It was two and a half years ago, when I went through some difficulties and challenges in my personal life, the administrator of the company got sick and I did not feel capable of running the business alone. But this had nothing to do with the viability of the company, I was a distressed seller and for a while I wanted to get rid of it.
– Q: How was that experience of trying to sell the business?
– A: Now I feel I made some mistakes for being at the lowest point in my life and not having the proper advice and an exit strategy.
– Q: For example?
– A: The first mistake was that I never determined the true value of the company in advance. I just contacted someone, who brought me a buyer and then we started working on it.
– Q: What kind of buyer did you find?
– A: They were a large driving school group; they saw the potential of having an international school and told me how much they were willing to pay for the business. They even offered me to continue working for the company. Now I think it was not a good deal. I even remember that my accountant advised me not to sell it.
– Q: Any other potential errors that you can warn readers about?
– A: The other mistake I made was that I started transferring all of my students to the buyer, convinced that we would eventually agree to the sale. That was wrong because they benefited from our good reputation as an international school. I also didn't worry about boosting sales before I put the business on the market.
– Q: Why do you think you acted that way?
– A: Some things went wrong because I was distraught and tried to do things myself, without seeking legal or professional advice. I should have looked for a business broker first; a professional would have advised me to do things differently.
"Not like selling a pair of shoes"
– Q: What would you recommend to someone who is willing to buy or sell a company?
– A: My first recommendation would be to find a business broker, never try to do it yourself. A broker is the best way, he will give you the best advice, because transferring a business involves a lot of technicalities, it is not like selling a pair of shoes. You can also seek advice from Suomen Yrittajat, which provides legal advice to its members. If I had been a member then, there are some decisions that I surely would not have made.
– Q: You didn't finally sell your business, did you?
– A: No, I didn't. Luckily I found a good administrator in time who offered me his help and also a good driving teacher.
– Q: Do you think that acquiring an existing business is a good idea for foreign entrepreneurs?
– A: Business acquisition is good if you have the capital or can access a loan, because it can be very expensive. But it is a complicated process and you must first make sure that the business is profitable. If it is and if you have the capital, I would recommend doing it rather than starting from scratch.
– Q: Did you have to apply for funding at the beginning?
– A: No. We had some money and assets which we invested and we worked for some time without a salary. We never applied for loans.
– Q: How has the business been since then?
– A: Good. We basically work with international clients and the school has been very successful in terms of the number of students who get a driving license.
"A second home"
– Q: What do you think has been the key to your success?
– A: I think what we do well is that we understand the background, the type of clients we have. The Finns who are trying to get a driving license are mostly young people just out of school, but the foreigners are somewhat older; they work and have other concerns. We understand their situation, the difficulties they are going through and when they come to our school it is somewhat therapeutic for them.
They really see us as a second home, where they are welcome and we understand their language. That humanistic part of business is very important, you have to understand that people are not computers, you must feel with them but without ceasing to be professional and maintaining your policies.
– Q: What does it take to be a good entrepreneur in Finland?
– A: You definitely need a good accountant; my accountant is my life saver. You also have to follow the rules or you will get in trouble.
I would advise anyone who wants to be an entrepreneur to really take the time to learn more about business and what it means to be an entrepreneur. It is not just about registering, you have to have a good business plan and know why you are doing the business. The why factor is very important, once you understand it, then the how is much easier and anything is possible.
READ MORE ABOUT BUSINESS ACQUISITIONS AND CHANGE OF OWNERSHIP HERE >