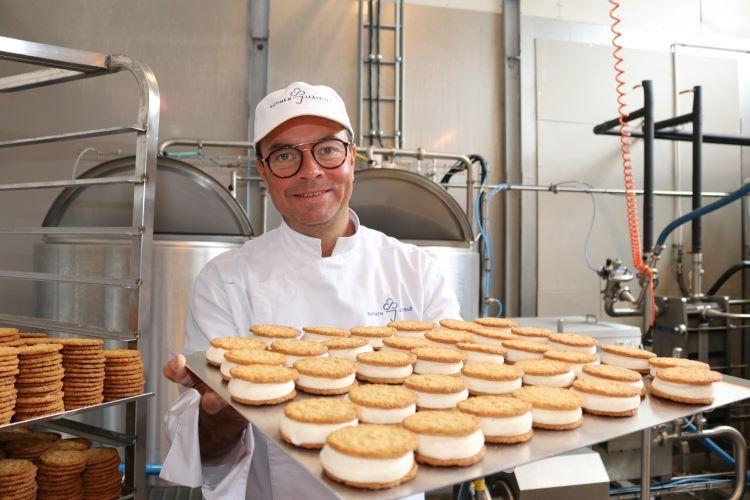 Petri Laukontaus is a global businessman thanks to his successful Christmas tree ice cream
The ice cream company Suomen Jäätelö is rapidly expanding internationally. It is not Petri Laukontaus' first hit company. "I want to make the best ice cream in the world," says the man who has even come up with an Artek flavour.
Petri Laukontaus of Suomen Jäätelö is uncompromising when it comes to ice cream. When the ice cream burgers he is presenting start to melt, he replaces the whole tray.
Petri tells us about ice cream in general, and then how his factory has developed its own ice creams for the likes of design brands Marimekko and Artek.
"Finns eat more ice cream per capita than anyone else in Europe."
Petri eats ice cream every day. Even though he eats it every day at work, he likes to have a couple of teaspoons of it after a meal at home too.
The now ice-cream maker started working with gourmet foods in a company that made meal components for business class air passengers. Next, Petri focused on quality meat, and he was on top of the trend when he founded a bakery in Teurastamo, Helsinki, that baked sourdough bread entirely from starter dough.
Secret ingredient: Finncattle milk
Three years ago, Petri decided to apply his passion to ice cream.
"Ice cream has always been my favourite food. When my mum gave me pocket money during the summer holidays, I'd buy ice cream for lunch."
There is no coffee served at Petri's factory – instead, only ice cream is offered to visitors. The man behind the flavours is demanding when it comes to achieving distinct tastes.
"What makes our product unique is that we use milk from traditional Northern, Eastern and Western Finncattle."
Finncattle milk is richer than average in protein and fat. The spruce needles used in the Christmas Tree flavour are picked by hand near a lake.
"Foreign customers love the idea of Christmas Tree ice cream," Petri says.
He first tailor-made the idea of a Christmas tree flavour for Artek.
"The company commissioned me to think about how Artek would taste," Laukontaus says.
Even when he bought his first, twenty-litre, ice cream machine, he was serious. He hired a master ice-cream maker from Italy as a consultant.
"I want to make the best ice cream in the world," Petri says.
Fast track to the international market
Suomen Jäätelö has advanced by leaps and bounds, on a rapid schedule and with few staff. At the Habitare design fair in autumn 2018 the company surprisingly struck gold.
"An executive from MUJI, one of the world's best-known lifestyle brands, tasted our Christmas tree ice cream, and we were able to discuss cooperation," Petri says.
Suomen Jäätelö, which is headquartered in Vantaa, is already selling its ice cream in eight MUJI stores in large European cities. The company will also soon start selling its products in a new MUJI store in the Kamppi shopping centre, Helsinki.
The company is setting its sights internationally.
"Competition has got tougher in Finland, as even big players have started to make artisanal-style ice cream," Petri Laukontaus says.
Text and image: Leila Itkonen