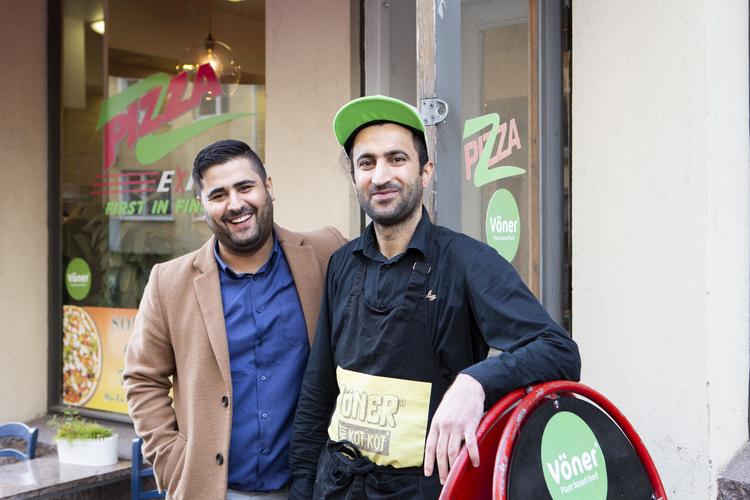 Siva Parlar took the meat-free Vöner kebab to international markets – now was the right time to give up the pizzeria where the story began
Siva Parlar has developed a vegan-friendly kebab substitute and is now busy rapidly exporting it to the world. Until now, he has also been running a pizzeria in Kruununhaka, Helsinki. Now it is time for him to focus on the Vöner.
Few business owners have the chance to sell the same company twice. Siva Parlar is giving up his Pizza Express restaurant on Mariankatu in Kruununhaka, Helsinki for the second time.
"I wanted to sell it before, but I had to find the right way to do so. I could have sold the equipment and furniture or the entire business and shut the doors by now," Siva says.
Instead, he found a different solution. Karez Anwar, who has worked in the restaurant as a cook for three years, is continuing the business. He will run the restaurant under a trading name of his own, rent the equipment and sublet the restaurant premises.
"Karez wants to operate as a business owner, but he didn't get a loan from the bank to buy the business. I'm helping him in the beginning and I hope that in a year he can show the bank that he can do it. Getting the sales proceeds immediately isn't important for me," Siva says.
Karez is still learning Finnish, but Siva, a Turkish Kurd, and Karez, an Iraqi Kurd, speak the same language.
"If Karez can get things going and keep himself and a couple of others in work that's fine by me. He's a skilled guy," Siva says.
Vöner grows and goes international
The pizzeria on Mariankatu needed a successor. Siva is so busy growing and spreading the concept of his Vöner seitan and other vegan wheat-protein derived products that he does not have time to run the restaurant.
Vöner is now being exported to three countries and the product family has grown to include sauces and sliced versions. The turnover in 2018 was €680,000 and profits were €48,000. This year's goal is €1.5 million.
The Mariankatu pizzeria was Siva's parents' company. He took it over in 2010. He was supposed to become a pilot, but neuralgia killed his dreams of that profession.
Siva showed signs of wanting to run his own business early on. He wanted to create something new.
"I changed the restaurant's name, menu and décor. I developed and thought about the concept. I took in influences from British and American chains and cookbooks. I wanted to sell quality food, which is why my prices have always been a little higher than average," Siva says.
In addition to running his own restaurant, Siva has imported packaging materials and pizza savers that prevent pizza boxes from sticking to the pizza, and advised other restaurant owners on menus, marketing and other operations.
Lunch restaurant was a mistake
Hunger grows with the eating. Siva sold the restaurant in Kruununhaka for the first time in 2014. He wanted a larger restaurant and a new concept. He set up a lunch restaurant in Konala, Helsinki. That was a mistake.
"I experienced a culture shock. Most of the work in the pizzeria was in the evening. I thought that a lunch place would be easier, but I didn't realize that if the restaurant is open from ten to three, I have to get up at five. I'm not a morning person at all. After about a year I said to myself, I've had enough, and sold the restaurant," Siva says with a smile.
Siva then started looking for a new place. He was all but ready to start up in a location in Töölö in Helsinki, but just before signing the contract it emerged that the whole building was about to be re-plumbed.
The new owner of the business on Mariankatu did not want to sell the restaurant back to Siva at first, but then called him back.
"His turnover had gone down by 60–70%, so I got the restaurant back at a snip."
Vegan pizza brings a queue to the door
A friend of Siva's brought some vegan cheese to him in 2016 and asked him to make a pizza with it. Siva promised to try and announced on the Sipsikaljavegaanit ("crisps and beer vegans") Facebook group that vegan pizza was available on Mariankatu.
"I came to work at nine-thirty in the morning and there was a queue in front of the door. I had to disappoint people and tell them the pizza would only be available later in the week."
That was the start of months of intensive learning about the meaning of veganism. Siva aimed to offer more than just pizza. He looked at the kebab meat spinning on the rotisserie and wondered how he could make a vegan version of it. For visual effect, he wanted the same vertical cone as is used for meat kebabs.
"I tried different things out at night after I'd closed up. I didn't know anything about seitan then."
Eventually, Siva managed to make a vertical cone of vegan kebab stuffing, and production moved from the restaurant's kitchen to a factory in the Pirkanmaa region. He recorded a video and took pictures of the vegan kebab cone. Then he went on holiday to Estonia.
"When I was in Estonia, I posted the pictures on Facebook and then took a shower. When I got out, I had dozens of missed calls and new messages on my phone."
The Vöner, as Siva called his vegan kebab, was first only on offer in Kruununhaka, but it soon spread to Turku, Tampere and Joensuu. Siva did not know the first thing about logistics, patents or trademarks. Everything had to be learnt while doing, and sometimes the hard way.
"I started by going from kebab shop to kebab shop, because I realized that they had no menu, marketing or anything vegan. I had to do all that for them. I visited kebab shops after 10 pm, when I had closed up for the night myself. In three months I brought the Vöner to 72 restaurants," Siva says.
Manufacturing goes to Germany, sauces come from Finland
The manufacture of the Vöner has since gone to Germany, as the factory in Pirkanmaa reached capacity. A new machine would have cost €250,000, which neither Siva or the factory had to invest. The German factory is a contract manufacturer, and cooperation is smooth. The sauces are still made in Finland.
Maxim Laxberg of the wholesaler Ecolink has been a shareholder from the start. He contributes skills in organizing logistics and other practical matters. Christer Schoultz, who has worked in the banking sector, has been a shareholder since November 2018. He contributes financial knowhow as new countries, clients and export contracts multiply. Siva's task is to sell and market the Vöner.
"I have other new restaurant concept ideas up my sleeve. I'm not sorry about not becoming a pilot any more," Siva says.
Direction USA
Siva has chased his dream and grown his idea into a successful business. He has, however, avoided large risks. The company has grown by financing itself, without loans or large investments. In the beginning he did not pay himself a salary and worked into the wee hours.
"I didn't feel I was losing anything other than some hours of my day. I've been lucky – founding a business like this barely needed any money at all. I signed good contracts with the factory at the start. Although I could have spent more time on the Vöner if I hadn't had the pizzeria to run, I might not have come up with the Vöner at all if it weren't for the restaurant."
The shares of Vöner Oy have increased in value to millions of euro along the way.
"Our dream and realistic goal is to export the Vöner to five to seven European countries and after that even aim for the US. I believe there's a demand for our product when you consider the state of the planet. With our product, we offer many solutions for the most difficult problems of today, such as climate change," Siva says.
New business owner continues traditions
Karez Anwar has new things ahead of him. The same work hours now contain a lot more work and things to learn. The administration and accounting are unfamiliar. He is passionate, however.
"This restaurant has always offered new things. I intend to carry on this tradition. I have so much to learn at the moment that there's no capacity for big changes, but for the Christmas party season I've thought of introducing vegetarian and meat food boxes and adding toasted kebab rolls to the standard menu. You can offer something new in every season," he says.
This article was first published in Yrittäjä magazine, 6/2019.