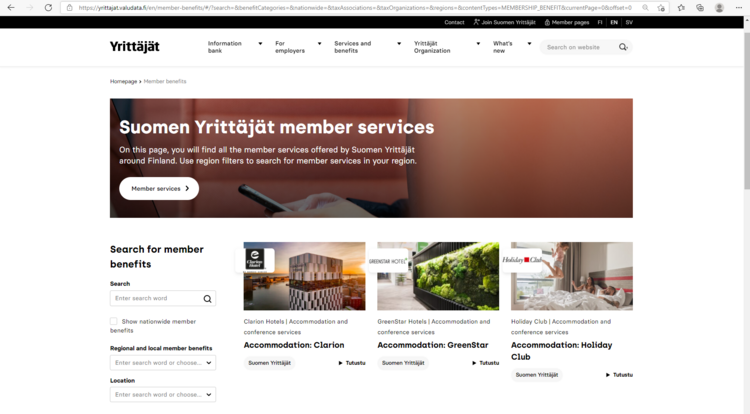 Suomen Yrittäjät overhauls website to give business owners the information they need
The new and improved Suomen Yrittäjät website will go live today. This website relaunch has been in the making for three years.
"This is a really big overhaul, not just an update to our platform. We've broken down all our content to the basics and put it back together so that it serves business owners in the best possible way in their search for information. We concede that our old website was very organization-centric, making it hard for readers to find what they wanted," says Taru Jussila, Director of Communications at Suomen Yrittäjät.
Several Suomen Yrittäjät member businesses have been involved in working on the new site. Suomen Yrittäjät cooperated with North Patrol Oy on the specification and tendering of the new website. Qvik Oy helped create the user experience and visuals, and after the tender the Valu Digital Oy company from Jyväskylä created the website.
Collaboration across the board
The pages of the local societies and regional associations of Suomen Yrittäjät around Finland are also being relaunched.
"This has been a huge project for every local society with a page on yrittajat.fi and naturally for every regional association too. Everyone's had to think about the kind of content a business owner really needs and what they don't," Jussila says.
"So, I'd like to warmly thank the massive group of people working in the local societies, regional associations, the national organization and at our contractors."
Visitor numbers to yrittajat.fi have multiplied during the Covid pandemic. Suomen Yrittäjät was able to serve an extremely large group of business owners through the website, social networks and webinars.
"These unusual times showed that if you want to quickly turn a website into a channel for assistance, the site has to be modern. That's been very much our focus when overhauling our site."
Brand new member pages
The member service section of the website is also being completely revamped. On the new website, members will sign in to find a completely new section just for them, containing member benefits, member services, a document bank, guides and much more.
"The Synergia member business directory is also moving to Member Services. The directory is getting new features. You can use it to find a partner or subcontractors for your business, advertise your company or just network. We'll be adding even more features next year, so there's much more in store in this area. We'll also be delighted to hear our members' suggestions for further development," Jussila says.
Editorial staff
toimitus(at)yrittajat.fi