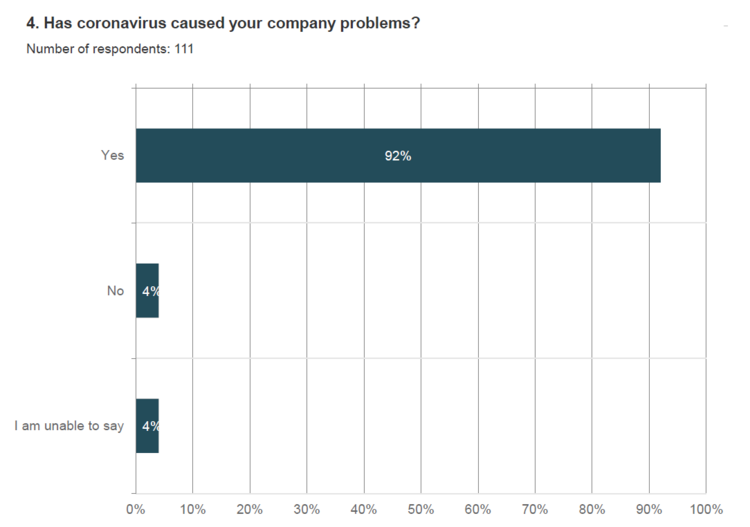 Survey: Around 90% of immigrant entrepreneurs in difficulty because of coronavirus
Active entrepreneurship among immigrants has long been a growing trend. For that reason, Suomen Yrittäjät surveyed immigrant entrepreneurs in late March and early April on the effects of coronavirus on their businesses.
A total of 113 entrepreneurs responded to the survey. There are about 10,000 entrepreneurs in Finland originally from other countries, meaning this survey reached just over one per cent of them.
The results are indicative but striking.
92% thought coronavirus has made operating as an entrepreneur more difficult.
67% had experienced a drop in sales.
29% had taken advantage of entrepreneur's unemployment benefit or intended to do so.
20% did not believe their businesses would make it through the crisis.
In terms of coping, 38% reported that they were doing reasonably well, but 38% said they felt very bad.
When the results are compared with the Finnish-language entrepreneur survey, Yrittäjägallup, it is clear that coronavirus has hit immigrant entrepreneurs even harder than native Finns.
Aicha Manai, a network manager at Suomen Yrittäjät, says, "Coronavirus has been difficult for almost all entrepreneurs, but especially for those who do not speak Finnish or Swedish fluently and work in sectors hit particularly hard by the crisis."
Manai says that a lack of language skills makes things like filling out subsidy applications and accessing information and advice services more difficult.
Coping split: large proportion doing well, but an equally large proportion feeling very bad
One troubling result is that 38% of immigrant entrepreneurs said they felt they were doing reasonably well, while another 38% said they felt very bad. Only 3% said they were feeling better than ever.
Manai says, "It has been considerably harder from entrepreneurs who are far from their native countries to meet family members or, for example, bring their spouses or children to Finland, which is naturally reflected in how these entrepreneurs are coping mentally."
Reduced sales hit hard
In terms of sales, 34% said sales had halved, 21% said sales had dropped by 10–30% and 20% said sales had dropped by 30–50%. Sales had dried up completely for 20% of respondents. A mere seven per cent believed their turnover would increase in the next two weeks.
Despite the sharp drop in sales, over half of immigrant entrepreneurs with employees had not laid them off or dismissed them. Sixty-two per cent had not talked to their banks, for example about loans.
Businesses run by immigrants are concentrated in the service sector. Over a quarter of immigrants' businesses are in wholesale and retail trade. They are also abundant in sectors serving properties and businesses, as well as in the hotel and catering sector.
"These are the sectors that coronavirus hit first. Small wonder, then, that almost 70% saw their sales drop and that one in five fears the worst – winding up their businesses or liquidation," Manai says.
The difficulties caused by coronavirus have also been keenly felt in the export industry, a sector in which immigrant entrepreneurs have been becoming more prevalent. Various consulting firms and import-export companies have become more numerous in recent years as many Finnish companies have felt the domestic market too limiting and set their sights internationally. This development has given new opportunities to educated, international individuals, some of whom have also supported foreign companies in establishing a presence in Finland.
Additionally, almost half of the respondents represent single-person businesses, whose situation has been particularly difficult during this crisis.
Wave of liquidations must be avoided
"Over 30,000 people work in companies run by immigrant entrepreneurs. It's important to ensure that these people continue to have a job in future and that companies avoid a wave of liquidations," Manai says.
"Payment arrangements, direct supports and development funding are part of a larger whole that will allow us to rebuild after coronavirus. With immigrant entrepreneurs, allowances must be made for subsidy applicants' language skills. Weak Finnish skills should not be a barrier to developing a business. It's great to see so many organizations investing in multilingual communication and plain language. It doesn't make anyone poorer – instead, it boosts many entrepreneurs' businesses' chances of survival."
Read also the blog post about the topic
Further information from
Network Manager Aicha Manai
Muita kiinnostavia aiheita