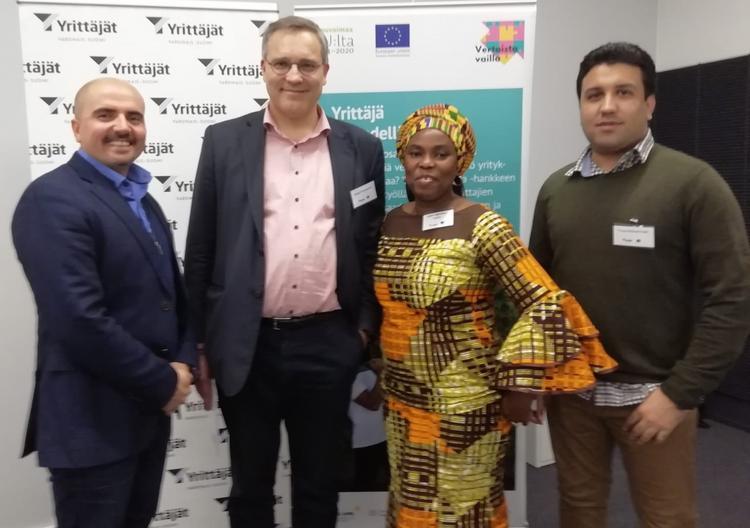 Three entrepreneur stories
The Business Unplugged Turku event brought together almost one hundred participants in the Turku Fair Center. The programme included workshops and presentations from businesses. Experts in the fields of tax, marketing, ownership transfer, business mentors and entrepreneurship education were also present.
Mikael Pentikäinen, CEO of Suomen Yrittäjät, the Finnish entrepreneurial organization, presented the organization in his opening remarks and said that 3.5% of businesses in Finland nowadays are owned by someone with a foreign background.
"In our entrepreneurial organization, we want to support these entrepreneurs. We started this year with a project focusing on immigrant entrepreneurship which is establishing the needs of and challenges faced by entrepreneurs with immigrant backgrounds. We are setting up an immigrant entrepreneur network at the start of next year. Applications for the network's management team are currently being accepted," Mikael said.
A business idea born in a child health clinic
"I came to Finland from Ghana to study. I met an amazing Finnish man, and we fell in love and got married. Our first child was born in 2006. He had skin problems, which I treated with shea butter, a traditional remedy in Ghana. At the child health clinic, they were stunned by the improvement in his skin and I brought the nurse a piece of shea butter soap as a sample," Edem Agbekey says.
It took a little while before the nurse tested the somewhat unusual-looking soap. She fell in love with the product and said she recommended it to her colleagues and mothers of small children who had to wash their hands often. This gave Edem a business idea, and she started making shea butter-based skincare products under the Inkuto trademark.

"Everything you do takes you forward. Believe in yourself and turn your dream into reality," Edem says.
Through resolve to IT entrepreneur
When Pouya Mohammadi, an Iranian Kurd, moved to Finland in 2002, all he knew about the country was that it had lakes and forests. At first, he lived for a year in Hanko studying Finnish. After that he moved to Hauho to continue learning the language. He was recommended to continue his studies by training as a cleaner or practical nurse, even though he was interested in IT.
Pouya started to study IT and managed to work for Nokia for a few months after graduation, until the factory was wound down. After this, he worked in sales. In 2012 he set up the onlinefood.fi and lahjakorttipuhelimella.fi websites. In 2015 he founded Arvo Mobile Oy and became a full-time entrepreneur. He has founded a total of four businesses in Finland. He wants to do something unique in Finland.
"In Finland, those of us with darker skin are asked for a lot of proof to show that we're reliable. On the other hand, there's a lot of help here if you only ask for it. I dream about being able to go to Iran some day and support start-ups there," Pouya says.
A new company born from helping immigrants
Ali Giray moved to Finland from Turkey at the age of 11 in 1993. He graduated from secondary school here and completed his national service in Vekarajärvi. When he was a child, his family lived in many Finnish towns.
Ali's father had a pizzeria, which Ali later bought. Alongside his own work he helped a lot of immigrants deal with state authorities. He even spent so much time on this that he hired an employee at the pizzeria to do his own work.
"When I was interpreting at the job centre once, I was told that I couldn't be taking care of people's business all the time, because I wasn't an interpreter and I didn't have a business in that field. This stimulated me to start my own interpreting agency, and I became a translator," Ali says.
Later, Ali became actively involved in Joensuun Yrittäjät in the city of Joensuu, including sitting on its board for five years. He wants to represent immigrant entrepreneurship and employment in Finland.

In the photo (L-R): Ali Giray, Mikael Pentikäinen, Edem Agbekey and Pouya Mohammadi.

Follow this link for more information about applying to join the immigrant entrepreneur network's management team >>