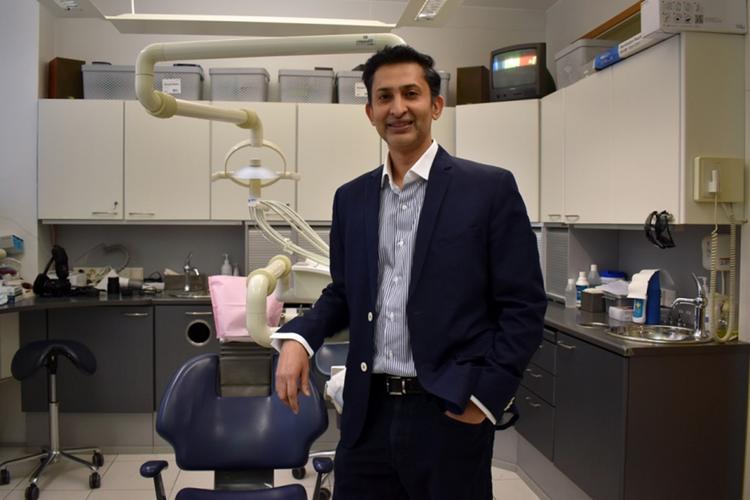 "To be a good entrepreneur in Finland you need ambition, passion and perseverance"
Thomas Thottungal is a dentist and an entrepreneur from India. He arrived in Finland in the late 1990s to study but ended up staying in the country.
Thomas first tried to build a company from scratch, but soon hit some bottlenecks that prevented him from growing and developing his full potential. Thus, in 2013 he decided to play harder, took out a loan and acquired an existing dental clinic in Helsinki.
The beginning was tough due to his unfamiliarity with the Finnish business environment and his blind faith in local people – "I was a bit naive," he admits-. Until one day he decided to step on the brakes and completely transform his company, Providental, into what it is today. Since then, he has been able to develop a successful business and now he is a major player in his niche.
In this interview, he shares his thoughts on the experience of buying an existing business, while explaining the keys to being successful in business in Finland.
-QUESTION: How did you end up in Finland?
-ANSWER: When I finished my dental studies in India I was looking for some place to attend a postgraduate programme in restorative dentistry. At that time I didn't know where Finland was and I was considering London, the United States and Australia. From a small advertisement I learned that there were some open places at the University of Helsinki, so I came here in 1998.
-Q: Did you consider immediately entrepreneurship as an option?
-A: I finished my studies in 2000 and got a job as an assistant lecturer at the University of Helsinki, but at some point I realized that I needed to earn money and since my skills were in my hands, I left the university and went to work as a dentist in public health centers, first in a small town and then in Lahti. In 2005 I started my career in the private sector, where I worked for companies such as Oral and Mehiläinen. In 2008 I returned to Helsinki and started my first entrepreneurial project.
-Q: How was this first experience? What kind of business did you setup?
-A: I started as a sole entrepreneur (toiminimi) in a small room in Mikkonkatu. Two friends helped me with the branding and with the creation of a website. We soon realized that other dental clinics Helsinki were closed from Friday to Monday, so that was our niche, from Friday at 3pm to Monday morning. I did that for almost two years, until I realized that I was stuck and on the verge of burnout because I could not get any support to grow the business. I was coming from abroad and I didn't have a network of colleagues who could help me. Thus, in 2010 I closed the business and went back to work as an employee.
-Q: But you never gave up the idea of having your own clinic…
-A: Never, although I did think of leaving Finland. I thought this was a very difficult market and I considered going to England, I even registered there. They accepted me right away, it was a multicultural place, but also full of second or third generation Indians like me and very competitive. I spent three months there and I realized that this was not the solution, the competition there was fierce and I was not unique. I decided to come back and wait for my chance.
-Q: And the opportunity finally came…
-A: I had a vision; I wanted a clinic in the center of Helsinki that worked well. In 2013 this clinic went on sale, which I bought from a Finnish lady.
The business transfer experience
-Q: Why buying an existing business?
-A: There is a reason to buy, which is that from scratch, as I had done before, I only had access to this weekend emergency market. Now I wanted a clinic in operation as a base to develop my project. So I found this clinic and bought it.
-Q: How did you get the financing?
-A: From the bank, but let me explain how things work here: if you want to buy a house or start a business in Finland, you have to go first and ask for a small loan. Do not go and ask for 300,000 euros because you will not get it. When I started my first clinic I had asked for a small loan, around 25,000 euros, for basic equipment and I paid it back. And a few times when I needed to invest I always took small loans (around 5,000 euros) and I paid them. So when I wanted to buy the clinic I went to ask and they literally threw the money at me because I already had a history as an entrepreneur who pays his debts. The bank lent me hundreds of thousands of euros and Finnvera backed the deal.
-Q: How was it at the beginning?
-A: Hard. I was a bit naïve then and made some mistakes. At that time I didn't know that business is about getting the maximum from what you are trying to sell. I bought the clinic from a Finnish woman and I expected Finns would be truthful, open and not to trick you. But in business there is none of that and you shouldn't trust a Finn like you shouldn't trust an African, Indian or American, you must be very careful with everyone.
-Q: What was the problem?
-A: I got in trouble because I bought the business from this lady and out of good will we signed a contract with lawyers for a 2-year transition in which she continued to run the business. For two years the company was losing money and there was no way she let me change things. And I couldn't fire her because we had this contract and it would literally cost me to close the business. When the contract ended I was facing bankruptcy.
-Q: How did you solve it?
-A: I did a hard reset. In 2016 I fired everyone except the doctors and a nurse and rectified all the wrongdoing. I sat down with my brand manager and we completely restructured the business. That lady had a website that cost a lot and was never helpful: it was like the flag of Finland, white and blue, showing a blonde person… all very Finnish. We realized that that was not me, the white and blue background is not me, and I am not blonde. So one of the things we did was change the brand from a very white-blonde Finnish look to a new layout and we started marketing it in a different way. It was tough, I had to make some difficult decisions, I even had to fire my brother-in-law's wife. But if not, both me and my family would have gone bankrupt.
-Q: And since then, how has the business been?
-A: Good, my best year was 2019. At one point, we were five doctors and five nurses, roughly the same number of staff as before. My problem wasn't the staff; it was more about the target clients.
-Q: What made the difference?
-A: I realized that Helsinki is very international and one of the things I should not do is target the Finns. When my predecessor was here, she put a Finnish twist on marketing, but instead I put my own photo on the website and showed who I am and I refocused our offer. If you offer the best treatments and the best quality at a good price, the Finns will also buy it no matter where you come from. Now, 80% of our clients are Finns.

Foreign dentist and businessman in Helsinki
-Q: Do you employ both foreigners and Finns?
-A: Yes, and when I need personnel I receive applications from foreigners and Finns. The difference between the two is that when you need someone to do an evening or Saturday shift, it is always the foreigners who are willing. When you give a foreigner a chance, they grab it and work without continually looking at the time. However, when I need someone for example to answer the phone, I need them to speak Finnish perfectly.
-Q: Was it the right choice to buy an existing business?
-A: I never think about it. One of my qualities is perseverance, and if I make a decision, I make it for better or for worse. If we talk about the entrepreneurial experience in general, when I look back my only regret is not having done it before.
-Q: As a doctor in Helsinki, do you feel at a disadvantage because you are not Finnish?
-A: No, when clients look at my website, with my photo on the front, they already know what I am. When you are selling as a foreigner, my advice is that you have to put your brand, show what you are and what you represent along with the product you sell. And if this is something really valuable, you will get people to buy it.
-Q: What does it take to be a good entrepreneur in Finland?
-A: You need to have ambition, passion and perseverance. You need to persevere, no matter what they tell you, you have to think that you have something, a talent, that you are special. Don't let people bring you down and persevere. If you have something to sell, take your product, add value to it, make it much better, and then sell it to the Finns. You will be able to do it, because the Finns will buy anything that is a good deal, business is business.
-Q: What would you have liked to have when you started that you didn't have?
-A: When you start a business you have to take reasonable risks and it is good to have someone to consult like Suomen Yrittäjät. You should have opportunities for networking with experienced people. That is something that I did not have in the beginning and I think it is very important.
READ MORE ABOUT BUSINESS ACQUISITIONS AND CHANGE OF OWNERSHIP HERE >