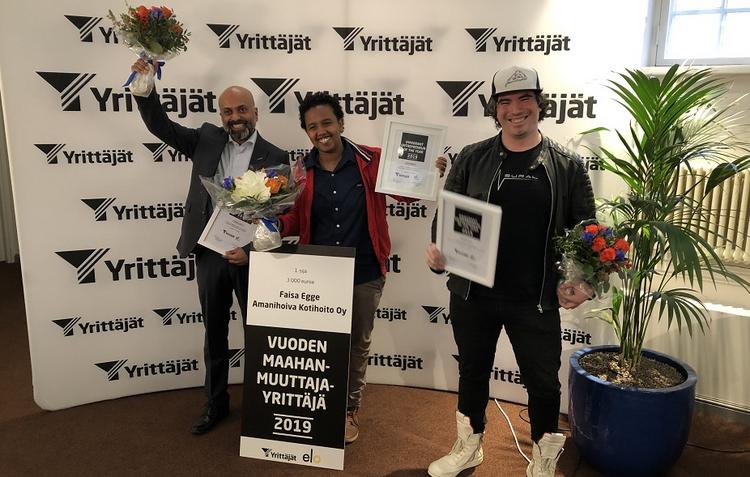 Who will be Migrant Entrepreneur of the Year 2020?
Suomen Yrittäjät is searching for an Migrant Entrepreneur of the Year for the second time.This competition puts migrant entrepreneurs and their significance for Finnish business front and centre. Last year, Faisa Egge, an entrepreneur in the care sector from Kokkola, won the award.
Aicha Manai, Network Manager at Suomen Yrittäjät, says, "We are looking for nominees who, in spite of the language barrier and a different operating environment, have succeeded and developed their business areas, as well as shown an exceptionally entrepreneurial attitude."
The candidates will be inspiring examples for other business owners and people interested in entrepreneurship.
"A nominee's business must be profitable and have growth prospects," Manai says about the criteria. "Entrepreneurs have a positive attitude to what they do and to running their own business."
Award decision in December
Anyone may make a nomination, in English or Finnish, by 23:59 on 4 November. You can suggest an entrepreneur who you think is worth the award for the Immigrant Entrepreneur of the Year 2020 competition. You can suggest someone here.
The jury will choose a winner from among three finalists. The winner will receive €5,000 in cash from the insurer Elo.
"Last year's competition showed that Finland has some great, diverse business stories," says Joni Tikkanen, Chief Marketing Officer at Elo. "On the other hand, they also showed that an entrepreneur's daily life is full of all kinds of challenges. Language difficulties and finding the right information, in particular, add to the difficulties migrant entrepreneurs encounter. Starting your own business takes a lot of courage. Among migrant entrepreneurs, there are a lot of inspiring examples which we want to highlight through this competition."
Who can be nominated for the Migrant Entrepreneur 2020 competition?
To be nominated for the competition, the migrant entrepreneur must meet the following conditions:
The entrepreneur was not born in Finland.
His or her native language is not Finnish, Swedish or a Saami language.
Nominees may not be a member of the Suomen Yrittäjät immigrant entrepreneur network management team.
His or her business is registered in Finland.
The entrepreneur and business have an impeccable reputation.
The business must be capable of continued success and be in good financial standing.
The entrepreneur and business have met their tax and other statutory duties as an employer and an entrepreneur.
The entrepreneur's business has been operating for at least 3 years by the end of this year.
A single person-business, a pair of entrepreneurs, or team of entrepreneurs may be nominated for the competition.
Further information:
Nominate an entrepreneur for Migrant Entrepreneur of the Year 2020 here.
Aicha Manai, Network Manager, Suomen Yrittäjät, 044 555 3220, aicha.manai@yrittajat.fi