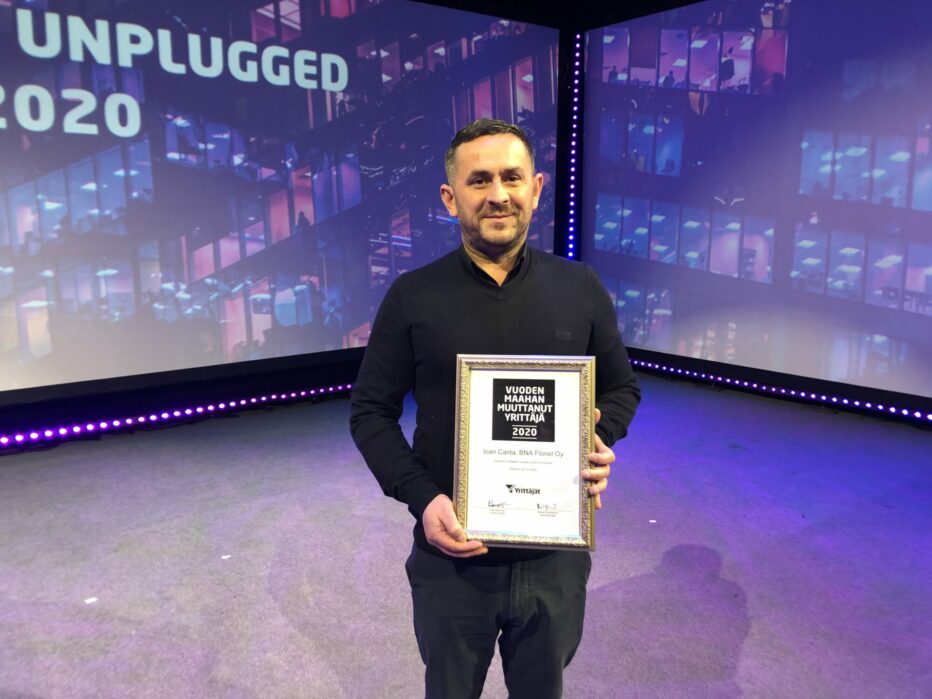 Who will be Migrant Entrepreneur of the Year 2021?
Suomen Yrittäjät is searching for an Migrant Entrepreneur of the Year for the third time. With this competition we want to highlight the significance of migrant entrepreneurs for the Finnish society and business front and centre. Last year, Ioan Canta, an entrepreneur fom the cleaning and labour-only building sector won the award.
Heiju Simola, Network Coordinator at Suomen Yrittäjät, says, "We are looking for nominees who have succeeded in running a prosperous business for several years, in spite of the possible cultural and language barriers they have encountered since moving to Finland."
Joni Tikkanen, marketing director at Elo, says, "We've seen inspiring entrepreneurial stories in previous years, and we're looking forward to them even now".
Award decision in December
Anyone may make a nomination, in English or Finnish, by 7th of November. You can suggest an entrepreneur who you think is worth the award for the Migrant Entrepreneur of the Year 2021 competition. You can submit your proposition here.
The jury will choose a winner from among three finalists. The winner is awarded at Business Unplugged event 8.12.2021 in Tennispalatsi, Helsinki and will receive €5,000 in cash from the pension insurance company Elo.
"We have been involved in rewarding the Migrant Entrepreneur of the Year from the beginning, now for the third year. We have seen that there are many challenges in the daily lives of entrepreneurs, especially those who have moved to the country at later age face difficulties regarding the language and in finding the right information. Entrepreneurship requires a lot of perseverance and courage. There are great examples of migrant entrepreneurs, which we want to highlight and at the same time encourage others to dare and try." says Tikkanen.
Who can be nominated for the Migrant Entrepreneur 2021 competition?
To be nominated for the competition, the migrant entrepreneur must meet the following conditions:
The entrepreneur was not born in Finland.
His or her native language is not Finnish, Swedish or a Saami language.
His or her business is registered in Finland.
The entrepreneur and business have an impeccable reputation.
The business must be capable of continued success and be in good financial standing.
The entrepreneur's business has been operating for at least 3 years by the end of this year.
A single person-business, a pair of entrepreneurs, or team of entrepreneurs may be nominated for the competition.
(Nominees may not be a member of the Suomen Yrittäjät's Migrant entrepreneur network management team.)
Further information:
Nominate an entrepreneur for Migrant Entrepreneur of the Year 2021 here.
Heiju Simola, Network Coordinator, Suomen Yrittäjät, heiju.simola(a)yrittajat.fi