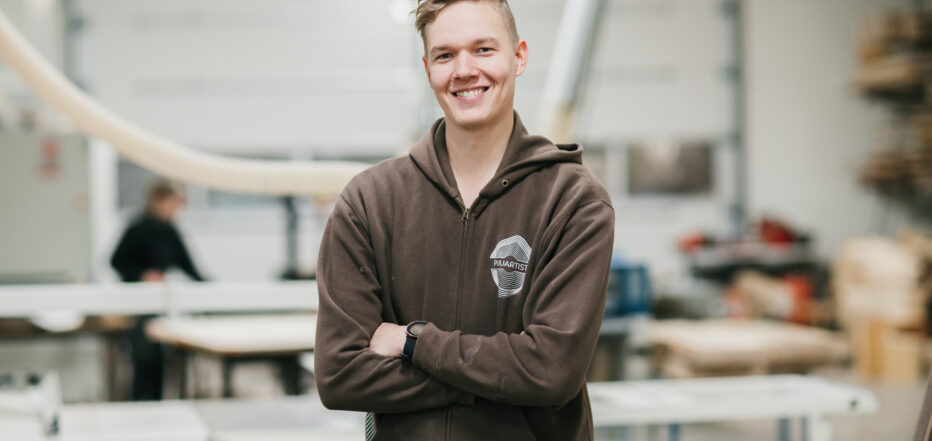 Miikka Kotilainen | Puuartisti
"Even if your self-esteem is totally shattered, you can still make it strong."
Timber artist Miikka Kotilainen is finishing the saunas of the new Supercell head office in Jätkäsaari, Helsinki. "I want my carpentry workshop to be the best in the world," Kotilainen says. Kotilainen, who suffered from severe dyslexia in school, saw one of his dreams come true when he and his company Puuartisti was chosen as North Karelian Young Entrepreneur of the Year 2020. The advice of Suomen Yrittäjät has been necessary during his rapid growth.
When Miikka Kotilainen pops into the Local Bistro restaurant in Joensuu for lunch, the restaurant counter he leans on feels familiar. The interior of Bistro was one of the first big projects Kotilainen's company, Puuartisti, built. A plank planed from a log in the wall of a weather-beaten timber-rafting hut was just the right level of jagged and told a story. That is the kind of timber Kotilainen builds from.
"Timber with stories take the mind wandering into the past, into the stages and growth history of the wood." The Puuartisti website describes the soul of the company: "let the timber speak".
The second owner of Puuartisti is Miikka's brother Joona Kotilainen, who runs the marketing agency Tovari. The brothers combined their skills and succeeded: one is able to build unique small series and bespoke projects, while the other is able to tell others about them.
Through dyslexia to entrepreneurship
Miikka Kotilainen had difficulties at school. Reading and writing seemed impossible in Finnish, let alone in other languages. That had a detrimental effect on his self-esteem, and when Miikka left school he didn't think he could succeed at anything. However, after vocational education as a timber artisan and five years' work experience, Kotilainen took part in unemployment office training aimed at entrepreneurs, and in an enterprise incubator.
"My brother and I started a business, and I quickly realized that there was a demand for people who could do several things. That was six years ago, and we now have six employees. We've got a lot of visibility and at the moment we're fully booked for the next year," Miikka Kotilainen says.
Supercell's unique sauna fashioned from tree roots has aroused media interest. A documentary is also being made about the project, which will become the Puuartisti calling card. "Globally," Kotilainen says.
Young Entrepreneurs of the Year
"As soon as we started our business, I joined Suomen Yrittäjät, because I didn't know anyone in the association. In the excitement following the first Young Entrepreneurs' Get Together I wrote down on a piece of paper my dream of Joona and me being the Young Entrepreneurs of the Year in a few years' time — and four years later, it happened," a happy Miikka Kotilainen says.
For him, networking has been important, not least because of the challenges caused by a quickly expanding business.
"I've taken risks and worked like crazy, and there have been growing pains. I've advised other business owners and used the Suomen Yrittäjät counselling services, for example with contractual issues. There's a low threshold for contacting them," Kotilainen says.
In 2020, Covid put Puuartisti's projects on hold for a few months. The largest projects were delayed by global freight traffic issues.
"We took advantage of that time to develop our products and prepare unique furniture for sale," Kotilainen says.
He tells his own entrepreneurial story in schools, because he wants to encourage young people.
"Even if your self-esteem is totally shattered, you can still make it strong — I'm a living example of that," Miikka Kotilainen says.