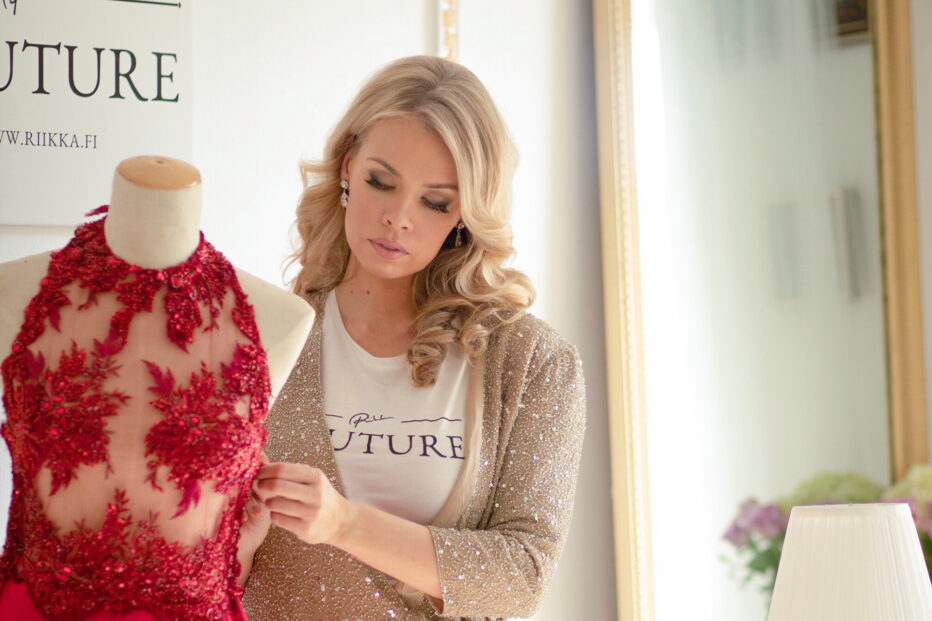 Clothing designer Riikka Ikäheimo is guided by intuition – here are her five pieces of advice for making your dreams come true
Riikka Couture's founder Riikka Ikäheimo, 32, is a woman who gets things done and listens to her heart. As a result, the dresses of the self-taught clothing designer have even made it into a Hollywood film.
One day in 2012, Riikka Ikäheimo was travelling on the Paris Metro. The metro train arrived at the station of her favourite café. Suddenly, Ikäheimo felt strongly that she had to get off the train and go to the café. She ordered a coffee, sat down and called her mother. Soon she felt like someone was watching her. Ikäheimo turned around and saw a charming man sitting behind her. The man started chatting with her. It turned out that the man was the American film director Peter Meech. The conversation flowed easily, and Ikäheimo, who was still lacking experience at the time, told the man about her clothing design dreams.
Four years later, Meech contacted Ikäheimo. He told her that he had been keeping track of Ikäheimo's career and that he wanted her dresses for his upcoming movie. The astonished designer left for Los Angeles with her dresses. On the same trip, she met her biggest idol, Britney Spears.
-I always had a feeling I'd meet her someday and design a dress for her. In Los Angeles, I felt that my chance had come. I messaged her manager, and they replied quickly and told me that Britney liked my designs. I got to meet her and give her an evening dress and a bathrobe I had designed. That is the greatest achievement of my life, Ikäheimo says.
Ikäheimo relies heavily on her intuition and the belief that everything happens for a reason. She pays attention to the signs that appear in front of her, and it is certainly partly thanks to her intuition that she has found success relatively quickly.
Her passion for clothes was awakened in 2009 when she saw a black lace evening dress in a dream. She found a black lace curtain at a flea market and decided to turn it into the dress from her dream using her mother's sewing machine.
When the dress was ready, Ikäheimo knew she had found her destiny. More than 10 years later, Ikäheimo's design process is still very similar: her dresses and collections often originate from her dreams. She sees the dresses clearly in her mind and then transfers the image to paper. However, nowadays she uses external patternmakers and sewers.
Ikäheimo is a self-taught clothing designer. In the past, she applied to all the clothing design schools in Finland, but could not get into any of them. Spurred on by this setback, she left for Paris in 2012 and found her thing: Lace fabrics adorned with Swarovski crystals, which her brand Riikka Couture has become known for.
A year later, Ikäheimo returned to Finland due to her father's illness. Her father passed away quite soon after and sewing became a lifeline for Ikäheimo that helped her focus on things other than her grief. At the same time, she worked full-time at Stockmann's wedding service.
-It was the best decision I could ever have made. At Stockmann, I learnt what customers want and what sells.
From the Finnish Independence Day Reception to Paris Fashion Week
Ikäheimo was 19 years old when she sewed the lace dress she saw in her dream. At that time, she told her parents that she knew that one day she would make dresses for the Finnish Independence Day Reception.
This vision came true in 2017, when she designed her first Independence Day Reception dress for Elina Kanerva. Soon after, her dresses started to be worn by many Finnish stars, such as the artist Eveliina and the actress Iina Kuustonen.
Inspired by her success, Ikäheimo applied to be included in Paris Fashion Week and, to her surprise, was accepted. In 2018, her first evening dress collection was shown at Paris Fashion Week and received international attention in the press. Now, Ikäheimo's creations were also being worn by world-renowned stars like the artist Bebe Rexha.
Riikka Couture was on its way to the stars when COVID-19 hit. Because of the pandemic, there were hardly any parties for two years. You would think this would have been was disastrous for Ikäheimo's business, but the positive and industrious Ikäheimo was not deterred by the situation.
-I didn't feel any distress during the pandemic. I believed I'd get through it. I did lose some of my income, but I was thankful to be healthy.
The pandemic taught Ikäheimo more about herself than any previous experience. She had been pursuing her dreams all over the world for years, but now she had to stop. However, Ikäheimo did not stand still, but spent time developing her business. This was possible because her business did not have many fixed costs, such as employees or a business space.
She designed a collection of casual wear that ended up being retailed by Stockmann, among others. This was one of Ikäheimo's biggest dreams. In addition, Ikäheimo also launched a dress rental service.
Ikäheimo's five pieces of wisdom
Success has, above all, required Ikäheimo to be determined and believe in her idea. One must improve oneself and learn new skills all the time.
When it comes to entrepreneurship, she is particularly grateful for the fact that every morning when she wakes up she gets to decide what she wants to do with her life that day. According to Ikäheimo, entrepreneurship offers "the power to control one's destiny". And she thinks it's wonderful.
She recalls one piece of advice she got from her Parisian supervisor: "Yesterday's victories or failures will no longer matter tomorrow. You can start again every day."
Ikäheimo has received plenty of good advice that she is happy to share. She has been writing pieces of advice down in a notebook since she was 12.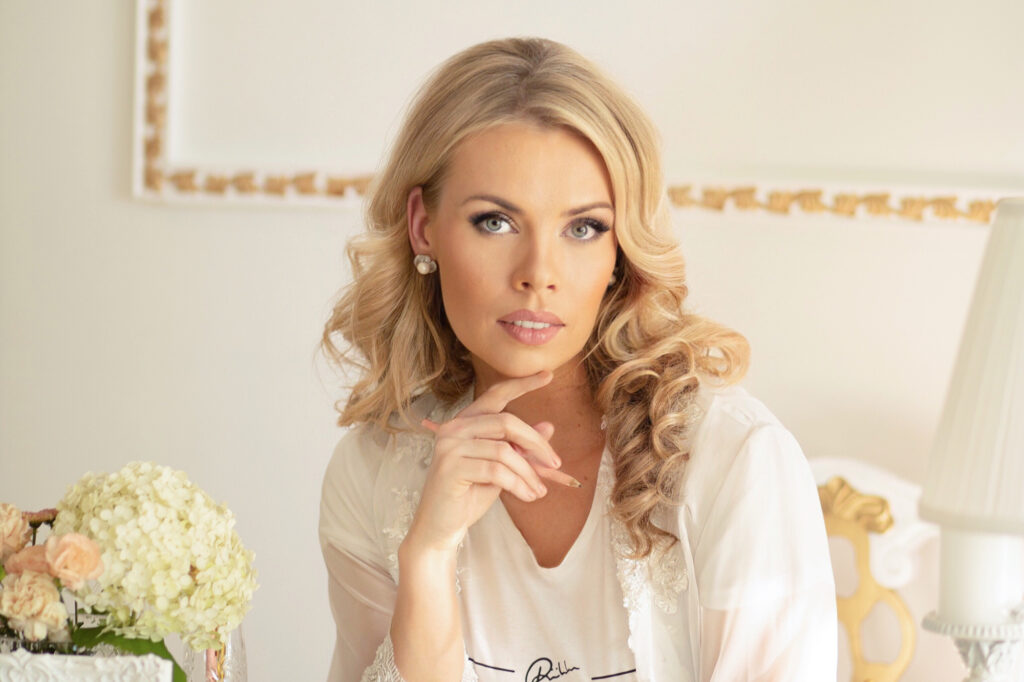 Riikka Ikäheimo's advice for those who still doubt their dreams:
If you have a dream, it's not on your mind for nothing. If you haven't succeeded yet, it doesn't mean you can't tomorrow. If you give up, your dream definitely won't come true.
There are different ways to make your dreams come true. If one path leads to failure, another path might have just the thing for you.
Analyse what you've done so far, what didn't work, and why it didn't work. Change the things that don't work.
The bigger your dreams are, the more you should give to life. And life will give back. But if you only give half of yourself, you will only get half back.
You don't have to be ready to get started. The development happens along the way.
Text: Inka Ikonen
Photos: PhotosbyBleumonde
---
Are you interested in entrepreneurship or internationalization?