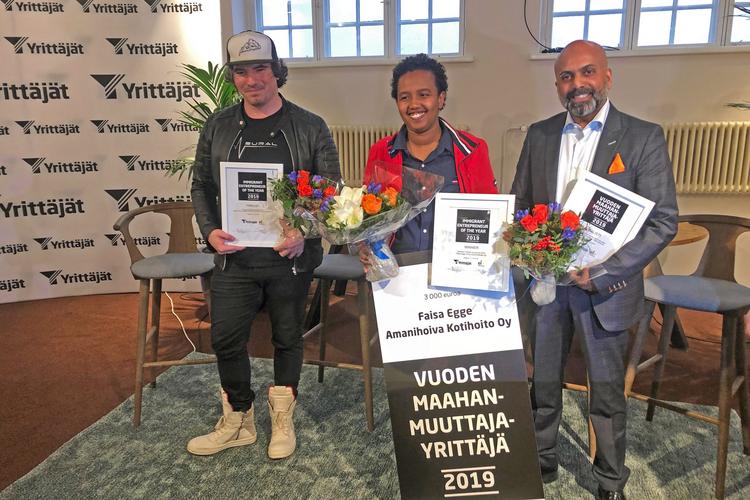 Eduart Shehu, Theo Turner and Ivan Ore are the Suomen Yrittäjät Migrant Entrepreneur of the Year 2021 finalists
Thirty-five entrepreneurs were nominated for the 2021 Migrant Entrepreneur of the Year competition. The three chosen finalists are Eduart Shehu from Kangasala with the company ES Metsä Oy, Theo Turner from Rovaniemi with the company Wild About Lapland Oy, and Ivan Ore from Lohja with the company Cafetoria Roastery Oy.
Because of the cancellation of the Business Unplugged event, the winner will be announced in a video on the Suomen Yrittäjät website on 8 December 2021.
Shehu chose a traditional Finnish sector
Eduart Shehu showed entrepreneurial traits in childhood, when he sold fruit in his native Albania. A few years after moving to Finland Shehu registered his forestry company, ES Metsä Oy, after an entrepreneurship course and qualifying as a forest machinery operator. The company currently owns three forest machines and has employed several people, in addition to the owner, for over a decade.
For Shehu, what is most important is earning the complete trust of his customers and partners. Honesty and the quality of the work are non-negotiable. He believes that in life and in work you have to take risks and, after them, bear full responsibility.
Turnover (2020): 587,000
Employees: approximately 15
Turner made his lifestyle a business
Having left the command of the British Royal Marines, Turner registered as a sole trader in Lapland in 2016. Nowadays, the limited company Wild About Lapland Oy offers travellers and small groups high-quality treks and experiences in Rovaniemi, the hometown of Santa Claus. As a business owner, he is passionate about his lifestyle and wants to continue sharing unforgettable experiences with his customers.
The tourist trade has suffered dramatically from Covid, but Turner has succeeded in keeping his company afloat, in spite of the challenges. He is again recruiting workers for the coming season to help make domestic and international tourists' dreams come true. Furthermore, the company is planning on expanding to other countries.
Turnover (2020): 313,000
Employees: seasonal employees
Ore switched sectors and brought his dreams to life
Ivan Ore moved from Peru to Finland over 20 years ago to study engineering, and after graduation he worked at Nokia for almost 12 years as a research engineer. When Ore visited his native country during that time, he got to know Peruvian organic coffee farmers. He liked the taste of the coffee so much that he decided to import the coffee to Finland and at the same time help the coffee growers secure a more reliable income. Ore started out as a part-time entrepreneur, registered as a sole trader while still in employment, and began importing and selling coffee, first raw and then in the form of organic coffee he had roasted himself. When Ore and his wife began running the business full-time in 2012, they registered the Cafetoria Roastery Oy company.
In addition to serving great coffee, the company wants to help foreigners find employment in Finland. People from over 13 countries have worked at Cafetoria Roastery over the years. Cafetoria Roastery has its own coffee trademark, and in addition to the Lohja roastery, coffee shops in Helsinki and Espoo.
Turnover (2021): 812,000
Employees: 5 plus part-time employees
Winner to be rewarded with €5,000
The winning Migrant Entrepreneur of the Year will receive a €5,000 prize from the insurer Elo. The two runners-up will receive certificates from Suomen Yrittäjät.
The difficult decision of which of these three entrepreneurs from very different backgrounds will be the winner will be made by the jury. The members of the jury are Ali Giray, chair of the Suomen Yrittäjät migrant entrepreneur network; the 2020 winner Ioan Canta; Marko Hara, a director at the employment pension company Elo; and Petri Salminen, chair of the board of Suomen Yrittäjät.
For further information, please contact: Heiju Simola, +358 40 843 1991, heiju.simola@yrittajat.fi