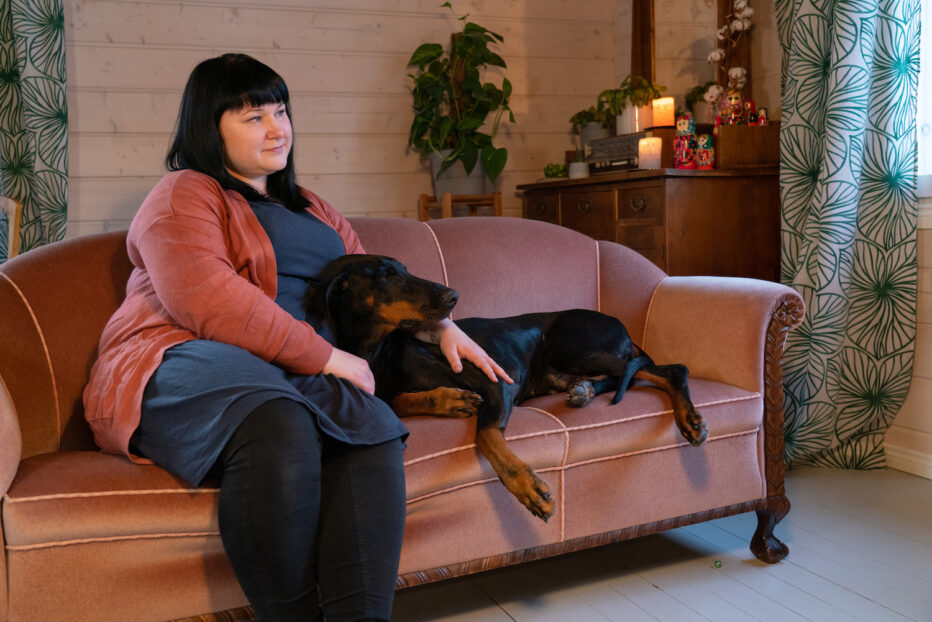 Entrepreneur puts family first and takes ten-week holidays
Job coach Anne Hämäläinen is able to have free evenings and weekends and take long periods of leave because she has decided to. Hämäläinen plans her leave dates far in advance and calculates how much she needs to earn to be able to take the time off.
Her work and business happen on the terms of other important things, not the other way round. This is the principle single-person business owner and job coach Anne Hämäläinen, from Hankasalmi, wants to follow when running her own business, and one she has succeeded in.
"The most important things in my life are my family and close friends. They were my starting point for thinking about what I wanted my work and business to be like," Hämäläinen says.
Hämäläinen, who had worked with youth and in social work, had dreamed about becoming a job coach for many years. When she was on maternity leave with her youngest child a few years ago, she found herself googling various courses, because she was interested in studying.
"I noticed that a job coach course was starting in Kuopio. I just got this intuitive urge to call and ask if there was still a free place."
So, Hämäläinen started studying to be a job coach while still on maternity leave and revived her old sole trader business name, Metsolanne.
Job coaching interested Hämäläinen because she had had good experiences of it when she was an employee.
"It was very useful for my day-to-day work and professional growth. It makes a difference for the well-being of the whole team and workplace. I've seen and found it to be effective, important and supportive of the work."
Free evenings and weekends
Hämäläinen will soon have been a job coaching entrepreneur for three years. She coaches around fifteen individual clients, most of whom are business owners. In addition, she coaches four or five groups around Finland. She also teaches and trains others as well as working in various longer projects.
Job coaching sessions last one to one and a half hours, during which work-related matters are discussed. Hämäläinen stresses that seeking out a job coach is sensible even if you are not going through a professional crisis.
"At its best, job coaching is preventative. It supports you in your day-to-day work."
To keep the quality of her coaching high, Hämäläinen does not want to take on too many clients. She also pays attention to her workload to ensure she lives out the principle of putting her family first. A real example of Hämäläinen's values is how she wants to keep her evenings and weekends primarily free and to take leave at certain times of the year.
Timing leave requires planning
Hämäläinen tries to take around ten weeks of holiday a year: six weeks in the summer, a week in November, two weeks around Christmas, and a week either in the spring or the autumn.
She achieved this by first making a firm decision to take leave and then calculating how it would be possible.
"I calculated how much I want to earn every month and what that means on an annual level. Then I decided I wanted to take a couple of months' of holiday. Then I spread my sales goals over ten months."
Hämäläinen stresses the fact that this requires prioritizing. You should diarize your holidays and work in a way that allows you to take those holidays. If you do not do that, there is a danger you will never take the time off.
"Taking holidays requires planning, prioritizing and strategic work. If we only live in cycles of a couple of weeks or a month, it's harder to break away for time off, as we don't know what direction we're going in."
Hämäläinen says that knowledge of her business's finances also helps her plan her holidays. Taking time off is easier with a financial buffer.
Empowered by the positive
Hämäläinen says she is aware that she is in a certain way a more privileged business owner than many others, as she can take the leave she wants to.
"I don't take the fact that I get to live the life I do and run my business as I want for granted," she stresses.
"However, I do think that all business activities should be built so you don't have to worry about whether you'll survive or not. Of course, there are times and things you can't change, but it's important to change the things you can."
Hämäläinen's entrepreneurial philosophy is based on the fundamentals of life that are the most important to her. They are also the basis for her business ownership.
For her, an entrepreneur's freedom means that her work is flexible around her family and hobbies.
"When you get to do the things you enjoy and like, they give you joy and empower you. I don't believe that a kind of entrepreneurship exists in which everything is always nice, but if you on the whole do the things that you find fun and engaging, you also get the not-so-pleasant stuff done."
Batteries are worth recharging
Hämäläinen lists three things a business owner ought to be realistic about. In other respects, being as optimistic as possible is useful.
"Time, finances and your own resources. When you are realistic about them, you are on firmer ground."
Particularly in a single-person business, the owner can be the business's sole resource. In that case, looking after your own ability to perform is even more important.
Hämäläinen says she understands how looking after yourself and resting can be difficult in some sectors. However, she still wants to believe that taking holidays can be possible with enough planning and prioritizing.
"A person tolerates stress and pressure for a short period, it can even lead to better results. In the long run, though, it's not sustainable. The deeper you are in exhaustion, the harder it is to extract yourself from it. That's why you should recharge your batteries more evenly and regularly, while you still have reserves to draw on.
"Hardly anyone says on their deathbed, oh how I wish I could have done more work and spent less time with the people I love. I think those who think the opposite are in the majority."
Anne Hämäläinen's story was first reported by Keskisuomalainen.