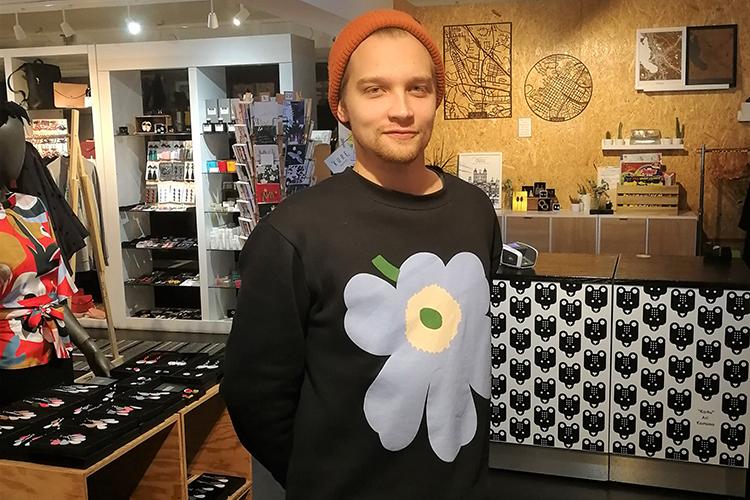 Entrepreneurs driven to unusual solutions because of postal strike – delivery of letters could be delayed until the new year
Entrepreneurs do not know how the strike will affect them financially, but it is causing them undue stress.
The postal strike has caused plenty of disruption among entrepreneurs who sell online. As far as is presently known, distribution of letters may come to a complete stop, but the delivery of packages should continue as normal.
Oulu-based Kure, a retailer of Finnish design, said on social media that it is stopping posting all letter-sized mailings entirely during the strike.
"Posti told us that letters might not be delivered until the new year. We normally send a lot of jewellery as letters, for example, but we don't want our customers to be forced to wait if they've ordered something as a gift," Hannu Laukkanen of Kure says.
Kure normally charges €2.60 for postage and packaging of letter-sized deliveries, and €5.90 for packages. Now it is reducing the P&P for packages by €1.40.
"This is an interim solution. We're meeting our customers in the middle so they don't need to pay full price for small deliveries. At the same time we're making sure that our deliveries get there," Laukkanen says.
Entrepreneurs have been talking in business groups on Facebook about their solutions to the postal strike. Many are turning to Matkahuolto and other transport services.
Laukkanen does not yet know how the strike will affect Kure financially. If it lasts as long as planned, letters will not be delivered at all. That may affect business, as customers will not be able to order deliveries at the lower letter rate.
"But I have to say that even though this is quite a bad situation for us, we understand the Posti workers well. If you believe the news, Posti can afford anything except reasonable wages for its employees. We think employees are the key to success. We're always for fairness and we believe that people should receive a living wage for their work," Laukkanen says.
Creative solutions
The national organization of Suomen Yrittäjät is not being spared the effects of the postal strike either. During the Christmas party season and at autumn conferences, companies usually confer awards to entrepreneurs and employees with Suomen Yrittäjät. It is now high season for delivering those awards.
Päivi Korhonen, who is responsible for award products, has organized deliveries in other ways because of the postal strike.
"The CEOs of the regional associations had a meeting in Helsinki. I took a couple of bags of products to the meeting so the entrepreneurs in the regions could collect their medals from the regional associations' offices."
Korhonen has done some detective work, going through the calendars and conference room bookings and finding out who is coming to visit the office of the national organization.
"I hope that somebody from Pirkanmaa, North Karelia and Savo has business in Helsinki," Korhonen says.
Similar measures have been needed in the past, too.
"During the last postal strike Suomen Yrittäjät board chair Jyrki Mäkynen brought medals to Southern Ostrobothnia and arranged to hand them over at a crossroads," Korhonen remembers.
The Christmas season is a critical time for many entrepreneurs. For example, Sanna Leinonen of the jewellery company Elvari Korut fears she may lose up to €10,000 in sales (article in Finnish) due to the postal strike.
Elina Hakola
elina.hakola (at) yrittajat.fi