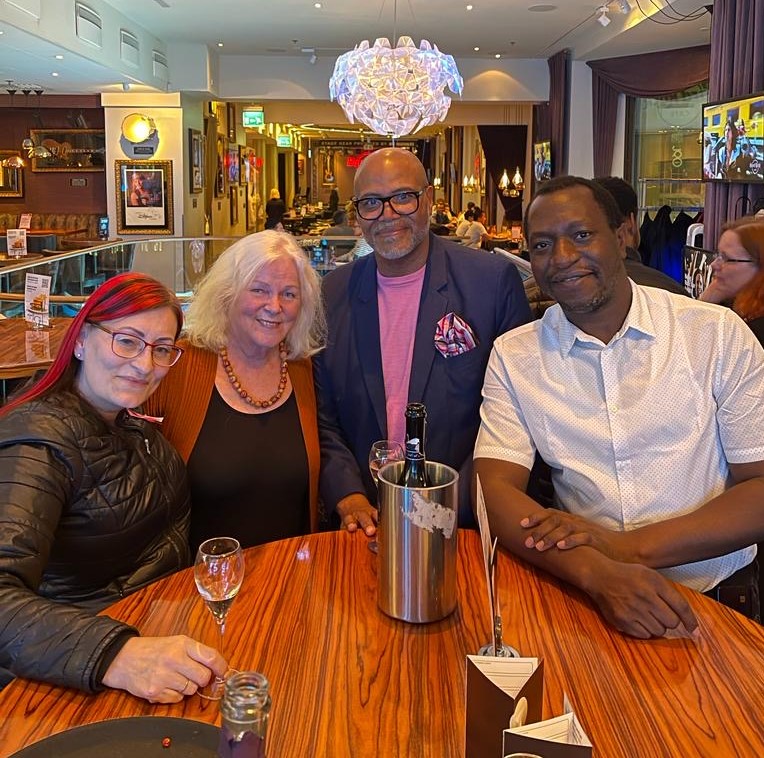 Networking and interesting entrepreneur stories at the Helsingin Yrittäjät HEI Network Business Date event
In March, Helsingin Yrittäjät's international HEI Network organised a Business Date networking event after a long break. The network's live events were suspended for nearly two years due to the COVID 19 pandemic.
The network's Business Date event was organised at Hard Rock Cafe in central Helsinki. More than 20 international or international-minded entrepreneurs or future entrepreneurs participated in the event. Former chair of the network Raija Lehtinen opened the event. In addition to casual networking, two young entrepreneurs in the design and clothing industry gave a talk during the evening.
Entrepreneur and Designer Jing Wang talked about her company Upcycle with Jing which she founded in 2020. The company creates hand-made jewellery from recycled PET plastic. Jing, who studied industrial design in her home country China and at Aalto University, talked about the ecologically sustainable products her company produces, which are also beautiful. The company has retailers in Finland, Denmark, Germany, the United States, United Kingdom, Switzerland and Ireland.
In her talk, Fashion Designer and Entrepreneur Nina Senskaia presented her clothing brand Today's Hustle for Tomorrow's Harmony which, just like Wang, she founded during the early period of the pandemic in 2020. The company makes high-quality clothing and accessories, which utilise sustainable fabrics, ecological packaging, production methods for recycled products and ecological dyeing. Senskaia has worked as a fashion designer and studied the industry at Aalto University and Saint-Petersburg State University of Technology and Design.
The following HEI Network event will be organised in Hietaniemi on 9 June. Anyone interested in entrepreneurship or internationalisation is welcome to participate.
What is HEI Network?

The international HEI Network (Helsinki Entrepreneurs International) of Helsingin Yrittäjät brings together business owners interested in being international. The main goal of the HEI Network is to serve as a platform for networking among international and internationalizing business owners in Helsinki.

Joining the HEI Network is free and does not require membership of an entrepreneurial organization. The operating language of the network is English.