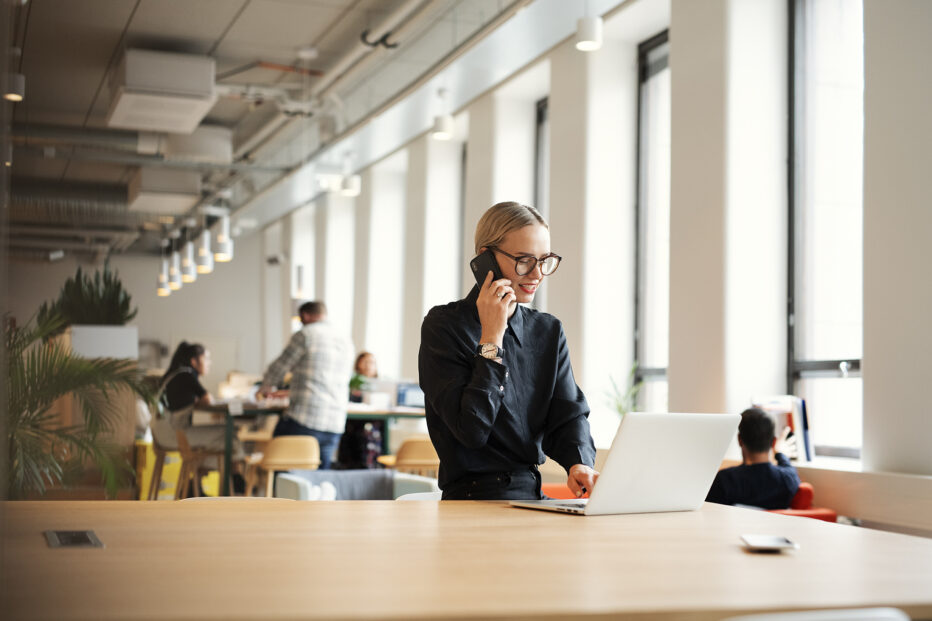 Our action on behalf of entrepreneurs in 2020
The year 2020 will go down in history as the year of coronavirus. This crisis dominated the advocacy work that we, Suomen Yrittäjät, do. Our voice was heard when we proposed action to support businesses. The task of Suomen Yrittäjät is to tell decision-makers what reforms need to be done, or not done, to ensure that businesses can operate as well as possible. Our advocacy work became even more important during the coronavirus year of 2020.
Our action to help businesses survive the COVID-19 crisis
Direct support for sole entrepreneurs and employers
Suomen Yrittäjät demanded direct support for sole entrepreneurs. That support materialized. The municipalities paid financial support in the summer and early autumn. Suomen Yrittäjät now demands that a new round of the sole entrepreneur support be opened. Minister of the Economy and Employment Mika Lintilä has said that work on relaunching the sole entrepreneur support is continuing.
Suomen Yrittäjät also proposed fast reforms to secure jobs and finance for employers. The government listened to this message, too. Entrepreneurs were able to apply for development support from the Centres for Economic Development, Transport and the Environment (ELY Centres, 1–5 employees) or Business Finland (SMEs with 6 or more employees).
From the start of the crisis, we called for a general form of support for businesses suffering from the coronavirus crisis. Business cost subsidy was paid out in the summer. We are calling for an extension to the business cost subsidy and that the grounds for distributing it be changed on the basis of feedback from entrepreneurs. Indeed, applications for the new and improved business cost subsidy will open before the end of 2020.
Availability of finance secured
We demanded that the availability of finance be secured to help businesses with cashflow problems. Our concerns were heard: Finnvera increased its maximum guarantee for bank loans from 80% to 90%. In addition, Finnvera lowered and simplified the pricing for its guarantees for COVID-19 working capital loans. These changes were made retroactively to the beginning of March.
When the Finnish Financial Supervisory Authority decided to reduce the capital demands for Finnish credit institutions, that was a response to our concern that banks did not have enough capacity to lend to businesses. This decision meant that banks could lend €52 billion more.
Flexibility for payments
We demanded flexibility for payments of tax, and in this respect the Tax Administration met businesses halfway in many issues. For example, until the end of June businesses could apply for a refund of VAT it had already paid when the deadline for the VAT was in January, February or March 2020. This was a loan.
We also demanded lower late payment interest for taxes that were part of an eased payment arrangement, and this was done. Eased payment arrangements benefited from 2.5% late payment interest, rather than the usual 7%.
We cooperated with the Tax Administration in many other ways too, and in addition to results in payment arrangements, we achieved extra filing time for businesses' tax returns during the worst of the COVID-19 crisis.
We also appealed to landlords to reduce rents for businesses if possible. Thankfully, many landlords reduced their rents for business owners.
Flexibility for workplaces achieved
To ease the situation for employers we called for changes to labour legislation, and changes occurred: they included shorter lay-off notice periods and redundancy negotiation periods. The right to lay employees off was extended to include fixed-term employment contracts. These temporary changes are in force until the end of 2020.
Help for entrepreneurs in the greatest difficulty
Suomen Yrittäjät also demanded that entrepreneurs be entitled to labour market support without having to wind down their businesses. This temporary change to legislation was first in force until the end of the year. We called for an extension to it. It is now in force until the end of March 2021.
We also demanded and achieved temporary changes to the Bankruptcy Act to prevent businesses' liquidations because of the COVID-19 crisis. These amendments will be extended.
In addition, debt recovery activities were limited to prevent businesses from winding down because of unreasonable debt recovery actions. Because of COVID-19, a business owner or business can get relief on payment of debts recovered at source, which will play its part in helping the business through the crisis. This is another change that we lobbied for.
In line with our demands, the Ministry of Justice is now working on legislation to make business-to-business payment terms more reasonable, and to change the retention periods for payment default records. These changes made due to the coronavirus crisis are temporary.
Practical help for entrepreneurs in surviving the coronavirus crisis
When the crisis hit, entrepreneurs needed help, essentially around the clock. We quickly launched our own Coronainformation for entrepreneurs mini-site on the Suomen Yrittäjät website. This mini-site is still being updated.
We put more resources into the Suomen Yrittäjät telephone advice service and managed to serve entrepreneurs well, despite the threefold increase in calls.
Suomen Yrittäjät employees and holders of positions of trust shared information and answered questions using their social media accounts. In addition, we set up a separate Suomen Yrittäjät #ostapieneltä (#buySME) group on Facebook that was dedicated to coronavirus crisis topics.
We organized many popular online briefings in which we advised businesses on things like applying for coronavirus-related financial support.
On the initiative of Suomen Yrittäjät, entrepreneurs were also offered regional coronavirus assistance. A business adviser group consisting of people from Suomen Yrittäjät, the Finnish Enterprise Agencies, SEKES (the Association of Finnish Development Companies) and the Association of Finnish Local and Regional Authorities offered help.
We used the high-profile "Auta pientä" ("help small businesses") advertising campaign to encourage consumers to buy from small businesses. This campaign was relaunched for the Christmas season.
We also achieved action in the municipalities: in cooperation with the Association of Finnish Local and Regional Authorities we made two different sets of recommendations for municipalities on how to help businesses survive and continue offering services and providing jobs.
Suomen Yrittäjät proposed that the regional authorities draw up coping strategies to stimulate businesses' and the regions' exit from the COVID-19 crisis. The regional authorities accepted the challenge and drew up a strategies to restore businesses' operating conditions. The Ministry of Employment and the Economy has since granted almost €100 million in regional development funding for purposes which include the execution of these strategies.
Entrepreneurs also received information by following the media, which interviewed many entrepreneurs and Suomen Yrittäjät experts on coronavirus-related topics.
Non-coronavirus issues: legislative improvements to benefit entrepreneurs every day
VAT threshold increasing
The threshold for paying VAT is rising from €10,000 to €15,000 from the start of 2021. This increased threshold has been an aim that Suomen Yrittäjät has pursued. The increase will help new entrepreneurs and businesses with very low turnover.
Tax incentive to commit employees
Unlisted limited liability companies will soon be able to grant their employees a share allotment which will not count as taxable income. This is possible if the value of the shares is more than the share's mathematical value, based on the company's net worth. This change will come into effect at the start of 2021. The change will help unlisted companies encourage their employees' commitment to the growth of the company: the employees benefit when the company grows more valuable.
Civil imprisonment for fine recovery being reintroduced to criminal law
Retailers have faced an increase in shoplifting and petty thefts in recent years. The total cost of losses from theft has been about €550 million a year. That is why Suomen Yrittäjät and the Finnish Commerce Federation have jointly demanded reinstating civil imprisonment for the recovery of fines in criminal legislation. The law will enter into force in 2021.
One-stop shop for environmental permits
Since the autumn of 2020, entrepreneurs have been able to deal with a single authority when they need to apply for several environmental permits. Entrepreneurs no longer have to deal with each state or municipal authority separately. The costs for small businesses, in particular, will decrease and project timetables will speed up. Suomen Yrittäjät was involved in the project. The one-stop-shop model is an excellent example of the efforts being made to reduce costly red tape for businesses.
More favourable energy subsidies for SMEs
The rate of electricity tax paid by industry is being reduced at the start of 2021 to the EU minimum. At the same time, the energy tax rebate scheme is being scrapped. Suomen Yrittäjät played a key role in removing the tax rebate, as in its view, the scheme discriminated against small and medium-sized companies and favoured fossil fuels. The reduced electricity tax and the end of the rebate scheme will benefit industrial SMEs and entrepreneurs in the clean tech and clean fuel sectors.
Micro-company exception for obligation to build electric car charging points
Suomen Yrittäjät had a strong influence in ensuring that companies' obligations to build electric car charging points were made more lenient. Steering consumers towards reducing emissions is needed, but the proposed regulation would have burdened SMEs with costs out of proportion with the expected benefits, and at worst could have forced businesses to shut.
On the initiative of Suomen Yrittäjät, a micro-company exception was included in the law. Charging points do not have to be built in buildings owned or used by companies of under ten people.
Some refuse removal may continue to be done by companies
Each municipality may decide that residents' domestic refuse is collected either by private companies or the municipality itself. The Government had proposed that all solid waste would in future be collected by the municipalities, which would have weakened the position of small entrepreneurs in the business. Suomen Yrittäjät lobbied to ensure that some domestic waste (mixed waste, slurry and some packaging) can continue to be collected by private operators, if the municipality so decides.
The legislative package should be presented to Parliament in the first half of 2021.
Extension of packers' producer responsibilities to small businesses blocked
Businesses which package products must conform to producer responsibility regulations if their annual turnover exceeds €1 million. In addition to industry and retail, packaging is used by florists, gift shops, bakeries and kiosks. The waste legislation working group in the Ministry of the Environment proposed extending the packaging producer responsibility, meaning various payments and reporting obligations, to all small entrepreneurs.
Suomen Yrittäjät was the only business organization to oppose the proposal, which was later removed from the Government's Bill. If the proposal had been passed, it would have brought new obligations to an estimated 20,000 businesses.
We opened the local election debate
Every business operates in a municipality. For that reason, decision-making in the municipalities is of exceptional importance to entrepreneurs. At the local elections in April 2021, the municipalities' decision-makers will be elected. Suomen Yrittäjät published its local election programme, Ei kuntaa ilman yrityksiä ("without businesses, there is no municipality") in November 2020. The Suomen Yrittäjät local election site helps both voters and candidates.
Active EU advocacy in the Brussels office
Depending on the sector, up to two-thirds of the regulations affecting Finnish businesses originate in the EU. Suomen Yrittäjät advocates very actively on behalf of Finnish SMEs' interest at the European level. In SMEunited, we are known for our expert, timely advocacy. Suomen Yrittäjät and the Finnish transport industry associations share an office in Brussels. Suomen Yrittäjät is a member of the European SME umbrella organization SMEunited, and our chairman Petri Salminen is a member of its board.
Improved position of companies operating on online platforms
We successfully made an impact on the P2B, or Platform to Business Regulation, which entered into force in July 2020. The Regulation improves the position of SMEs operating on online platforms, particularly in online retail and accommodation. For example, certain unfair practices, such as unilateral changes to terms and conditions without notification and deletion of user accounts without notification were forbidden, and platforms are now required to provide dispute resolution avenues and more openness about their practices.
Success at the EU act level — will later be seen in entrepreneurs' everyday lives in Finland
Suomen Yrittäjät has long had the advocacy goal of overhauling the EU's Small Business Act. This goal was achieved in 2020, when the European Commission published a new SME strategy. The strategy contains several concrete actions to promote SMEs' access to finance, the transition to climate neutrality and the digital transmission, as well as to remove the administrative burden caused by regulation.
Successful events online
The COVID-19 pandemic meant that large groups could not assemble safely. For that reason, Suomen Yrittäjät events went virtual. The transition went very well.
We managed to organize two advocacy events in February in the normal way.
At the opening event of the year, organized by the chairpersons of the entrepreneurial organizations, the Influencer Forum, the political party leader debate was of particular interest.
The Education Management Forum, the top meeting between entrepreneurs and educational managers, attracted over 200 participants to the Heureka Science Centre in Vantaa. The topic was cooperation between businesses and educational institutions.
The first large virtual event was the Municipal Management webinar in the spring. We returned to municipal matters in the autumn at the second Municipal Management webinar, at which the local election programme, "Ei kuntaa ilman yrityksiä" ("without businesses, there is no municipality"), was launched. As many as 1,200 entrepreneurs and municipal influencers attended over the internet.
The National Entrepreneur Days were held in Jyväskylä in October as a physical national conference. A new leadership for Suomen Yrittäjät was chosen there.
The ownership transfer conference was arranged in studio format, broadcast from Pori, in cooperation with Satakunnan Yrittäjät, the local regional association. A record 300 people registered for the event.
Nuoret Yrittäjät (Young Entrepreneurs) cooperated with the insurers Elo and Fennia to produce a virtual event focused on entrepreneurs' stories. Almost 200 people participated via Facebook and a live stream.
In October, a professional education webinar attracted 350 participants.
The Suomen Yrittäjät regional associations and local societies organized numerous events for entrepreneurs, some in person, some online and some as hybrids of the two.
Other help and support for entrepreneurs
Valuable benefits for Suomen Yrittäjät members
Suomen Yrittäjät offers its members valuable member benefits which are being constantly developed. The most popular benefit is our free legal advice.
Suomen Yrittäjät communication helps entrepreneurs keep up to date
Entrepreneurs can keep well-informed about changes to legislation and other changes affecting their businesses by following communication from Suomen Yrittäjät: Yrittäjät.fi news, the Yrittäjät podcast, the Yrittäjä member magazine, newsletters and social media channels. In addition, members can order the Yrittäjä Plus magazine.
Subscribe to Yrittäjä Plus (in Finnish) here >>
Help available at the early stage of financial difficulties
On the initiative of Suomen Yrittäjät, in cooperation with the Ministry of Employment and Economy, a broad business service network has been assembled. It is designed to give businesses a broad range of services regionally and nationally on the one-stop-shop principle. The purpose of the EU-funded Early Warning Europe project is to guarantee equitable assistance for entrepreneurs in business difficulties, regardless of their location.
The intent is to help businesses continue operating and retain the owner's and any employees' jobs. This service has been developed throughout 2020 and the launch of the service for entrepreneurs is planned for 2021.
Information from research
Suomen Yrittäjät bases its advocacy on research data or information grounded in strong experience. That is why we conducted many surveys throughout the year. We appreciate the time entrepreneurs take to respond. This helps us advocate on behalf of entrepreneurs, as we can base our development proposals on data from the surveys.
The responses in 2020 were dominated by the effects of the coronavirus crisis, which the Yrittäjätgallup survey followed regularly. The traditional SME barometer also charted the effects of the crisis. The largest survey of the year was the Suomen Yrittäjät municipal barometer, which over 10,000 entrepreneurs took the time to answer. It was worth it: the survey results help many municipalities improve entrepreneurs' business opportunities.
Mentorisi.fi opened
Mentorisi.fi ("your mentor"; in Finnish) is a member service provided by Suomen Yrittäjät. It allows entrepreneurs to search for professionals to spar them in their business activities or support their welfare in this exceptionally difficult time. Over 150 mentors, from sales professionals to AI experts, are a part of the service.
The site has received around 25,000 visitors during the year, and hundreds of mentor relationships have been formed.
Suomen Yrittäjät stock market training continues online
Suomen Yrittäjät continued its training programme for growth-oriented businesses, "365 päivässä pörssiin" ("Going public in 365 days"), primarily online. This time, 24 companies participated.
Guides for entrepreneurs
Suomen Yrittäjät has published its 2020 guides which help entrepreneurs improve their business activities and succeed better. The guides to launching online retail and a COVID-19 guide for employers were considered particularly necessary.
Practical training sessions
Suomen Yrittäjät offers its member entrepreneurs many varied training sessions at member-only prices. They are designed to help entrepreneurs succeed in their daily work. The frequency of these sessions was increased due to the COVID-19 crisis.
Entrepreneurship academy and other support for migrant entrepreneurs
We organized an entrepreneurship academy for migrant entrepreneurs which allowed about 20 entrepreneurs to complete the second-level qualification in entrepreneurship. The training was provided in simple Finnish in cooperation with the Suomen Yrittäjäopisto (Finnish entrepreneur education institute).
During the spring of 2020, the Suomen Yrittäjät migrant entrepreneur network's management team filed coronavirus-themed videos in Arabic, Mandarin Chinese, English and Turkish, among other languages. The videos have been viewed hundreds of times and they have been useful to many entrepreneurs who do not speak Finnish well.
Information about apprenticeships and on-the-job training contracts for entrepreneurs
Apprenticeships and on-the-job training contracts are excellent ways for many employers to train precisely the workers they need for their businesses. However, business owners are still relatively unaware of these opportunities. That is why Suomen Yrittäjät has delivered a professional education communications project, funded by the Finnish National Agency for Education, in which entrepreneurs were informed of the possibilities training offered them.
In addition, Suomen Yrittäjät made an impact on the development of professional training, such as by publishing a development programme entitled "entrepreneur-friendly professional education".
We also compiled materials to support upper secondary schools' curricula and cooperation with businesses and employers.